Among the ASEAN countries including Thailand and Malaysia, the outbound marketing like telephone sales and walk-in sales are over. One of the reasons is due to the COVID-19 but it is not only that. We will explain how to effectively achieve greater results of B2B digital marketing in ASEAN countries such as Thailand and Malaysia.
From outbound sales to inbound sales
1. Google search accuracy is continuously improving
At Google, they put all of their technology into it so that the information that users are looking for can be displayed more accurately at the top, and are conducting tests and improvements every day to improve search accuracy. It is because if the world evaluates the convenience that "the product or service you are looking for will come out accurately", the number of users will increase and the number of clicks on advertisements will increase, which is the pillar of Google's income.
2. Users use Google to search for the products and services
At the same time as improving the accuracy of search results, the information quality and usability of corporate websites have also improved. This is because companies in the old days say, "We have a website but that's it" will lose credibility.
Therefore, customers can now search and compare products and services online, and contact directly through websites to obtain the information they need to make a decision.
"I'm busy, I'm not interested in door-to-door sales, don't bring catalog or brochure" as the word that one of the Japanese manufacturing companies actually said to a new door-to-door salesman who came to their office. Now that there is more than enough information to collect online, we need to shift from outbound sales to inbound sales.
For B2B companies to achieve results in digital marketing (inbound sales)
In our blog last month, we explained the importance of building a website for B2B companies and five important points in creating a website. Above all, it is a prerequisite that websites have become an extremely important business tool for B2B companies.
This time, we will explain how to use the website as one of digital marketing tools to make new inquiries and acquire potential customers.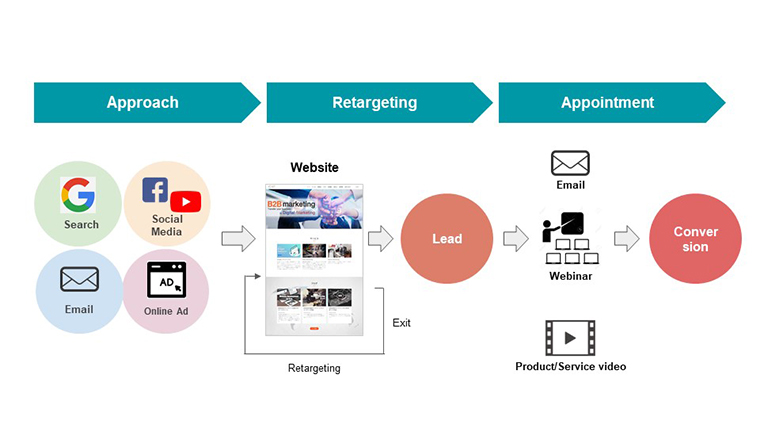 1. Approaching potential customers to websites
There are many companies that mistakenly think that when a website is launched on the Internet, "Internet users naturally find their site by searching and many people access it." If you think about it from the point of view of users searching for information, you probably will view only the first page of the search results, second page at the most. With so many websites on the market, it's very difficult to get your website to the top of your search results. And if you do not announce your products and services online and gain awareness, the website you have created will not be accessed.
Therefore, in order to attract potential customers and prospective customers who want to access the company's site, use SEO (search engine optimization), social media such as Facebook, Instagram and online advertisement, etc. to let them know about your products and services.
2. From retargeting users who have accessed the websites
Make the website structure easy for the users to find what they are looking for, and generate conversions such as contact to company by submitting contact us form. Plus, retarget the users who have visited the website and left before reaching to conversion to access the page again by running retargeting (tracking) advertisements.
3. Nurture the acquired leads to get contract
The potential customers who contacted via the website still are going to do more research online and compare with other companies before making the final decision. During the period of users comparing with other companies, it is important to continue to send emails, hold webinars, and send explanation videos of products and services as a support for the decision making process. This way, nurturing potential customers will finally lead to actual customers.
Summary
We have explained how to successfully proceed digital marketing for B2B companies to achieve business results centered on websites. The content introduced here is a method that is actually producing results for many of our customers, including our company, which is a B2B company.
Most B2B companies say, "There are sales people, but there is no marketing department."You need a contact window person, but having marketing knowledge is not necessary. Our staff will support you from hearing to planning, proposal and operation as a professional consultant.
If you are considering in shifting to inbound marketing but don't know where to start, or if you have a website but you don't get good results, please feel free to contact us!