In order to effectively use your website for business in Thailand, it is important to know the difference between Thai and Japanese perspectives.
There are many companies that have websites but not been able to use them effectively to acquire business.
The importance of using websites as a core customer contact point is being realized due to the pandemic era where the offline sales became restricted and the working style itself has changed. Even B2B companies, whose mainstream is face-to-face sales, are beginning to produce business results while implementing measures to increase the inflow to their websites. However, at a local subsidiary headquartered in Japan, the website is managed globally from the head office and cannot respond to the local situation, or because it is globally unified, it is not possible to modify it for the local use, so the Japanese at the head office. Even websites launched locally for local use tend to have a "Japanese perspective" including the head office, and "Japanese people like it" but "Thai people receive it differently." It seems that there are still issues such as "I've done it." This time, I would like to explain with the following flow.
1. Internet situation in Thailand
2. How to user your website for business
3. What is an attractive website for Thailand?
1. Internet Situation in Thailand
As of 2021, the number of Internet users in Thailand is close to 49 million, accounting for about 70% of the total population. Compared to last year, the number of people increased by 3.4 million (+ 7.4%), and it is predicted that the number will continue to grow.

(Source:dataportal)
In Thailand, of the nearly 49 million Internet users, 47 million use the Internet from their smartphones, accounting for 97.70%. On the other hand, the ratio in Japan is 83.10%.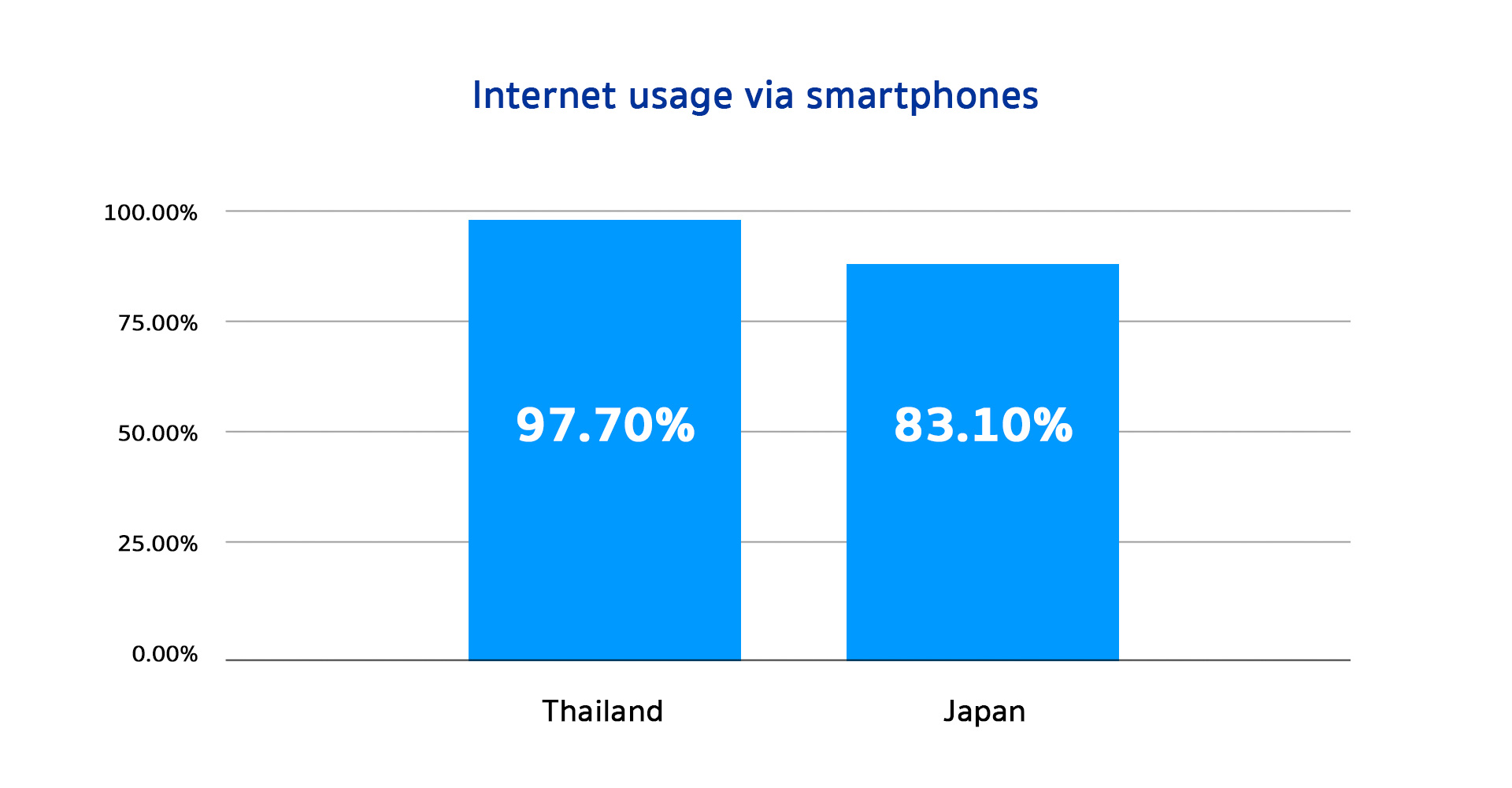 The average Internet usage time is 8 hours and 44 minutes a day, which shows that people in Thailand are very dependent on the Internet compared to the average Internet usage time in Japan of about 4 hours according to a survey by the Ministry of Internal Affairs and Communications of Japan in 2021.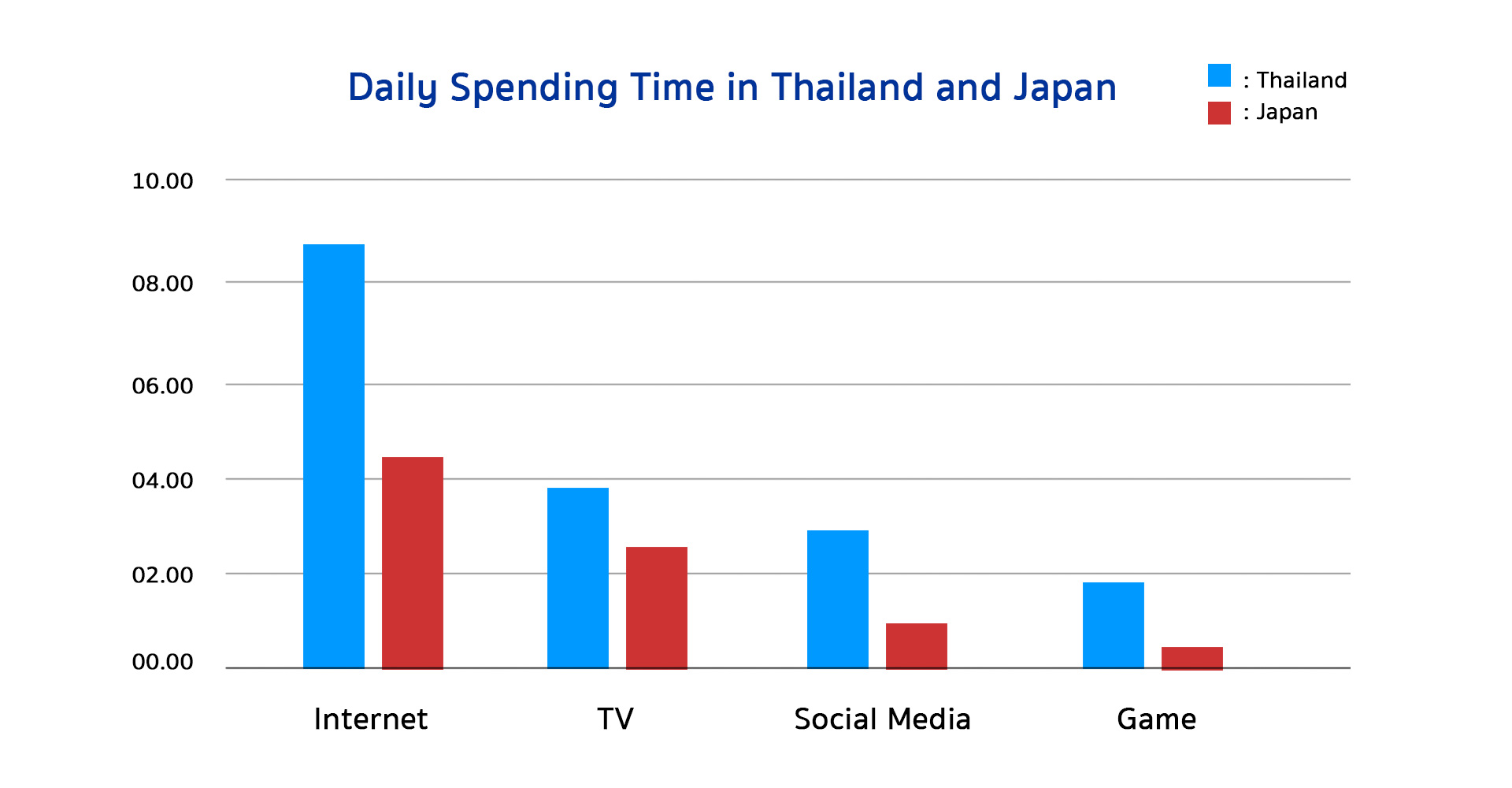 In addition, the search engine share in Thailand is as follows.
You can see that almost 99% of people use Google to find information.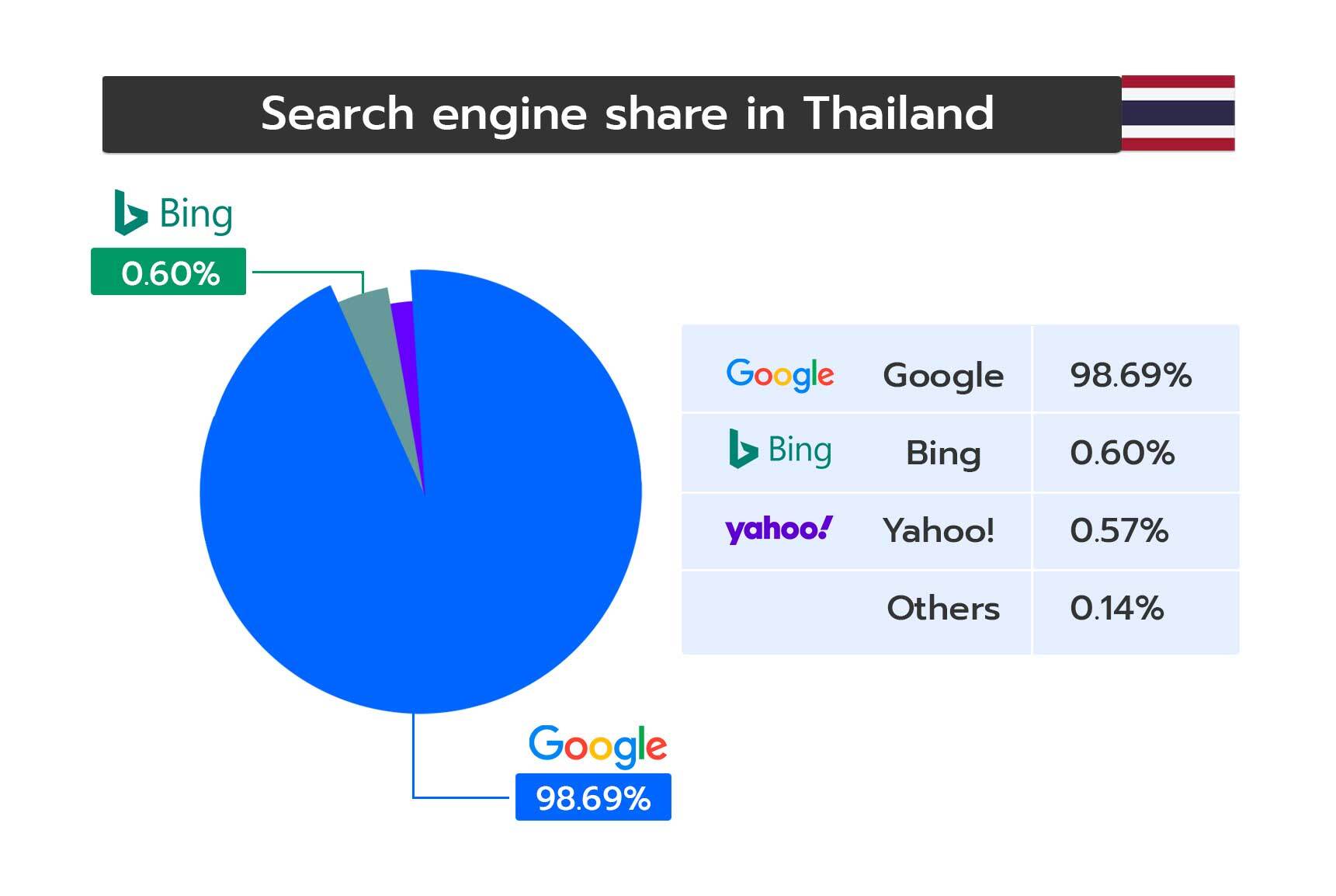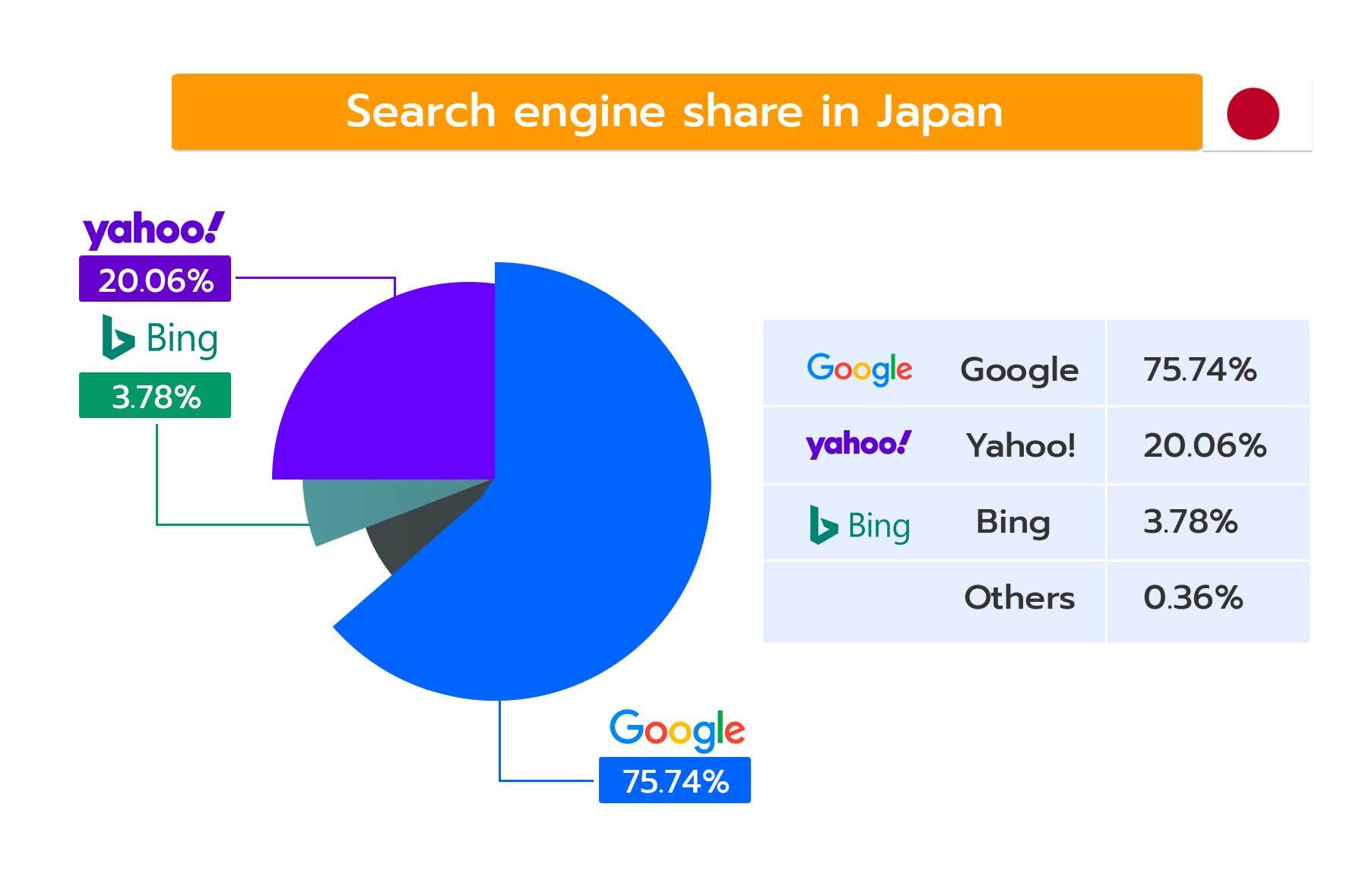 2. How to use your website for business
In order to utilize a website for business, it is important to first set clear objectives and goals that will be the result of website operation. You also need to be clear about your target (what kind of customers you want your products and services to see). If the target visitor leaves your site unsatisfied, such as being difficult to read, not finding the information you are looking for, or being difficult to understand, it will be difficult to achieve the purpose of operating the website. Instead of creating a website that is "something that looks sophisticated and beautiful design", it is necessary to clarify the purpose and target in the pre-development stage, and design the site structure so that it is attractive and easy to understand for the target.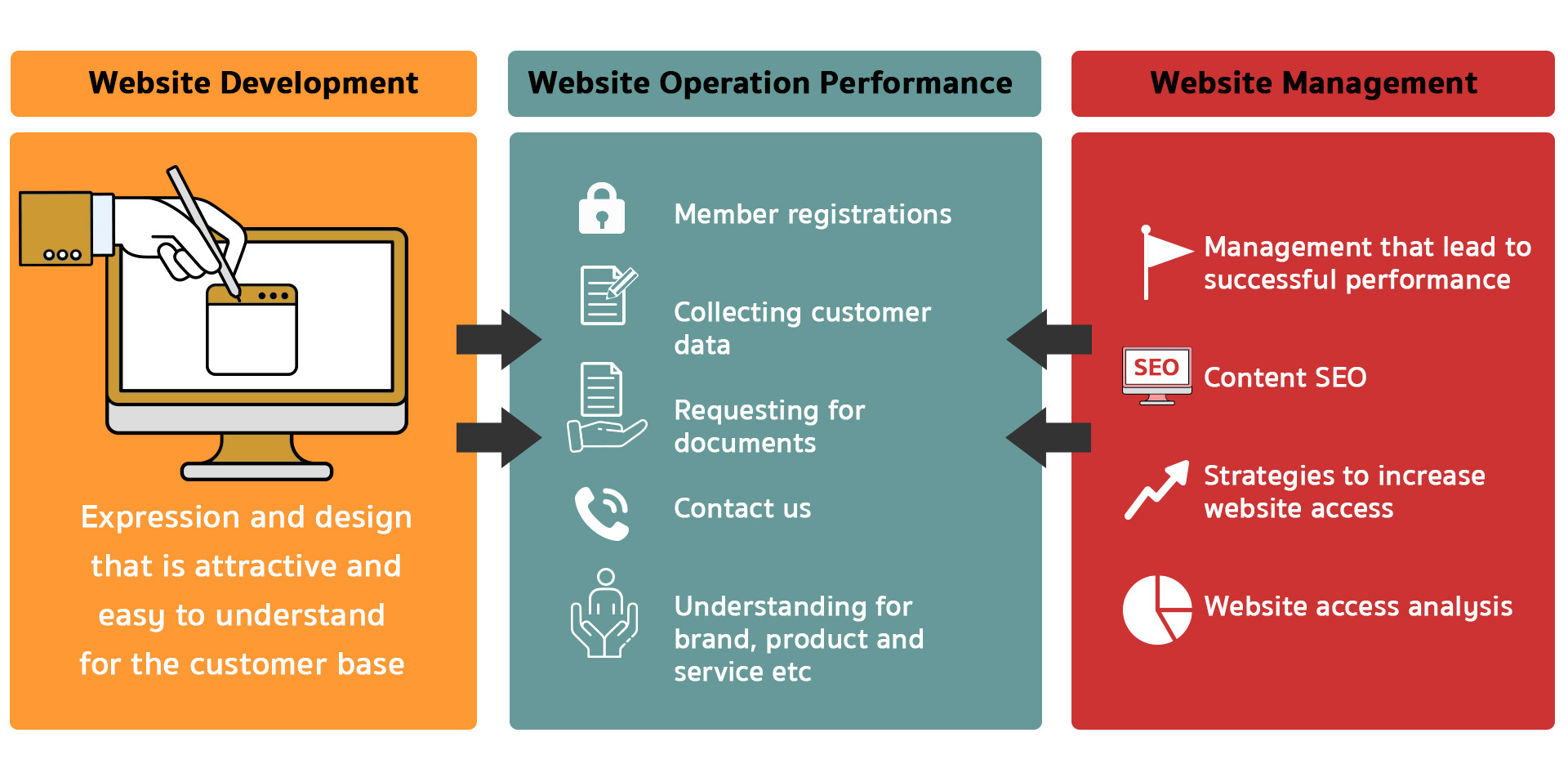 So what is a website that is attractive and easy to understand for your target?
Whenever I show a Japanese website to Thai people, I almost always get a response that "the amount of text is too much". In Thai culture, people in Thailand prefer visualizing rather than reading therefore, websites that contain a large amount of texts often give the impression that they are "difficult to understand". According to one survey, the average number of books read by Japanese people in a year is three books, while that of Thai people is seven paragraphs.
Japanese websites are influenced by Japanese aesthetics and cultural backgrounds, and rather than trying bold designs, solid and simple designs stand out.
In Japan, it is considered "hospitality" to show as much information as possible, and the amount of characters tends to increase, but Thai people sometimes perceive it as unfriendly.
As shown below, Japanese and Thai people have different perceptions, and there is a risk of brand damage.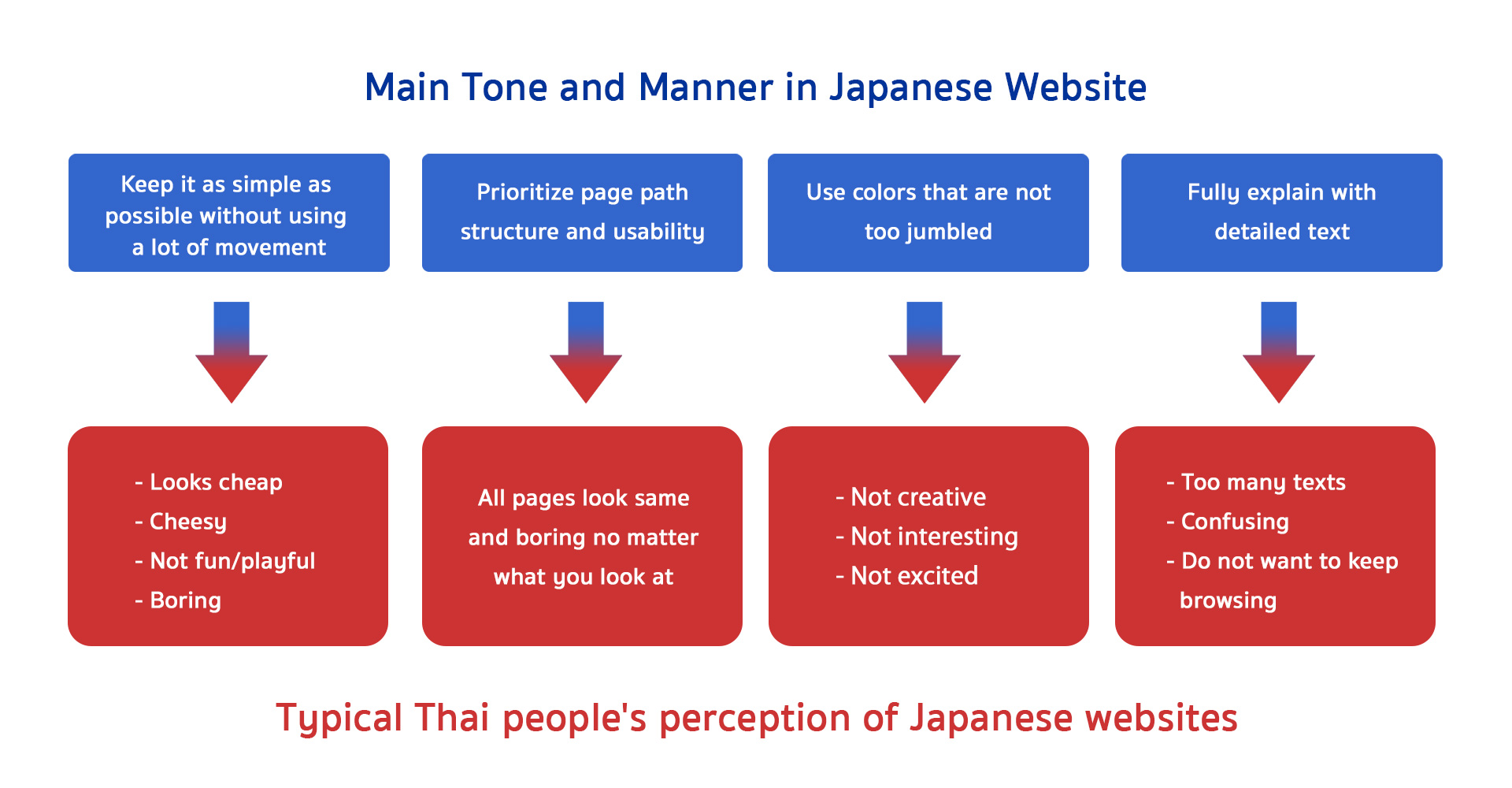 By understanding each target in this way, you will be able to design a website with high usability. Usability generally refers to the "ease of use" of a website for the target, but it is not just "whether the website is easy to see and beautifully designed", but a purposeful user visits the site. The point is whether or not you can achieve that goal.
Excellent usability is achieved by being able to access various functions with simple operations and not feeling stress or confusion while using it.
3. What is an attractive website for Thai people?
I would like to look at three examples of websites in Thailand. From the left, the websites of Toyota (Thailand), SCB Bank, and Bangkok Bank, but as you can see at a glance, they all have a layout with a lot of images.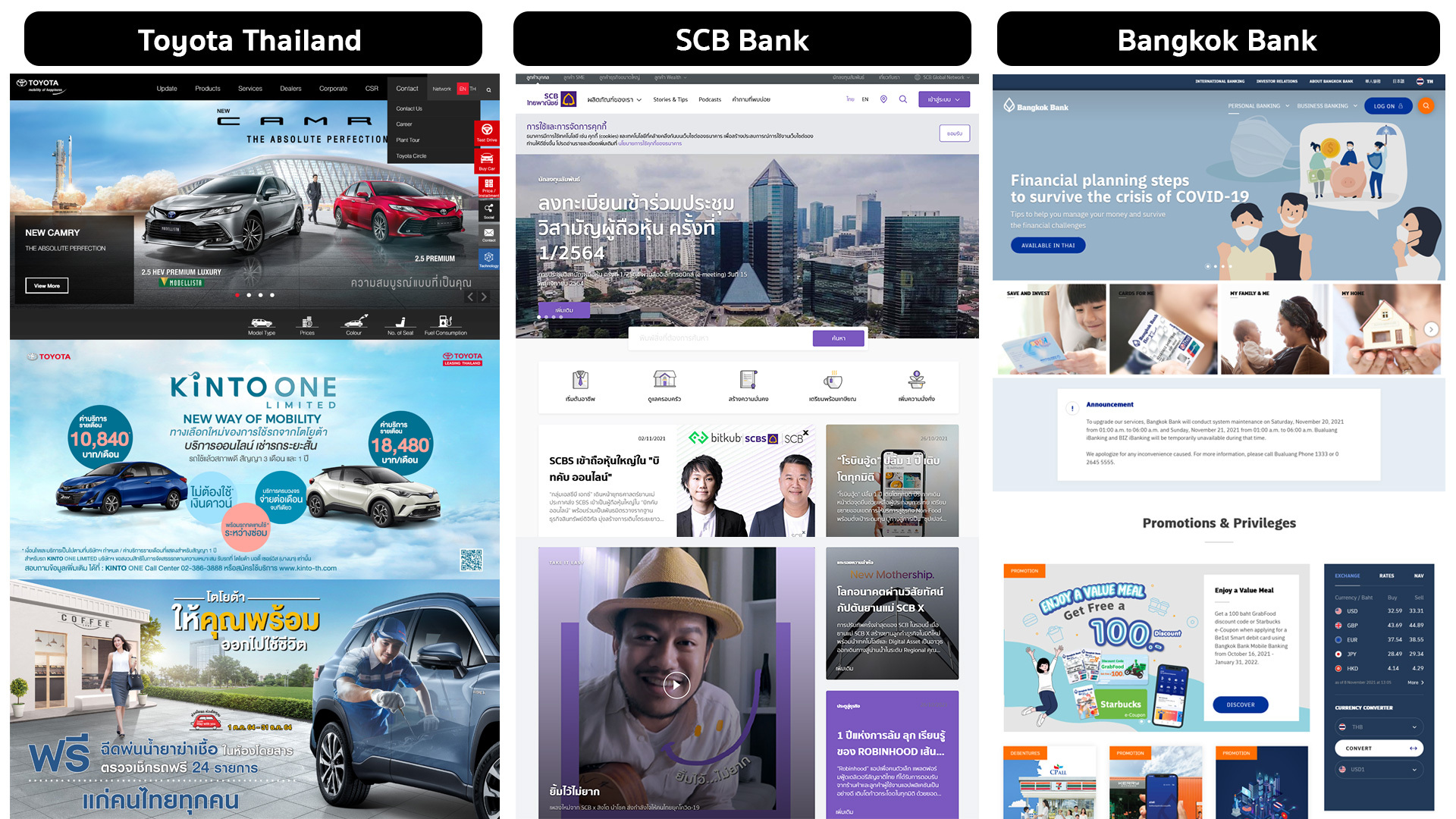 On the other hand, let's compare three Japanese sites with the same industry as above. How is the impression compared to Thai websites? You can see that it is created as simple as possible and provides more information in text than in images.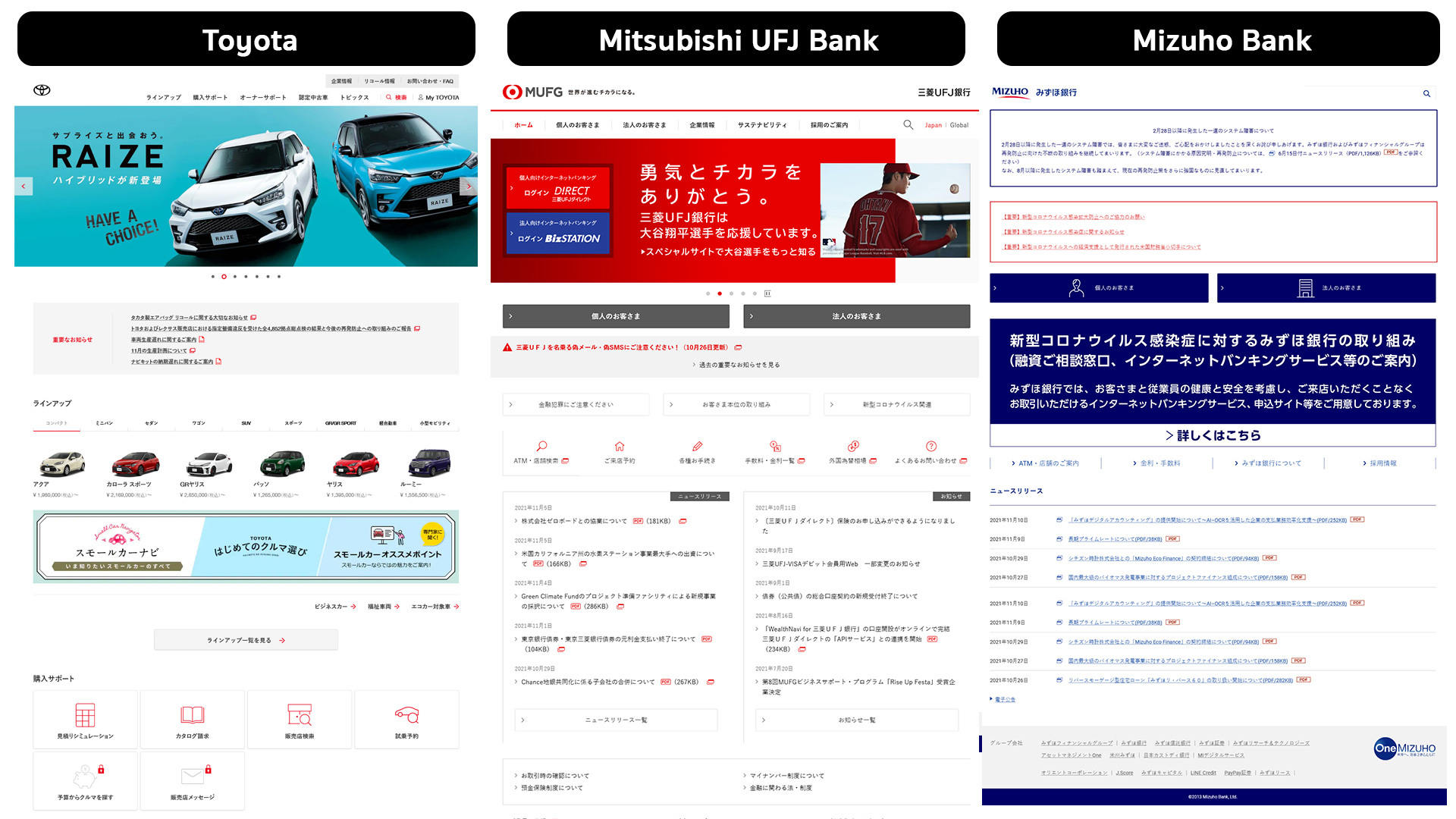 The Thai site and the Japanese site are devising ways to make the following users feel comfortable in getting to the information, but as a result, the usability concept of the site is different.
Japan
Can reach the target page with a minimum number of clicks
 More options are displayed on the top page to reduce the number of clicks.
Result:
The more information there is, the more text-only display tends to be.
Thailand
Broadly categorized menu
Large image and less text

Result:
Each time you click, you will have fewer unnecessary options and you will surely get closer to your goal.
The number of pages tends to increase, but photos and icons can be used as a supplement.
Proceed to the next while imagining the page contents
In this way, the site for Japanese targets and the site for Thai targets often have different "ways of showing", "style", and "structure", and when launching a site for locals, these points should be taken into consideration. (Our company has abundant such know-how from the experience of supporting Japanese companies in Thailand)
Next, in order to achieve results on the website, "operation" becomes important after launch.
Just launching a website does not increase the number of visits. Websites only stand on the starting line when they are accessed, so we must make sure to increase the number of visits while making good use of SEO measures, advertisements, and other media strategies to increase the site access.
The main role of a website is to deliver the "information that users are looking for". Of course, as I mentioned at the beginning, the design and structure of the website that is close to the target is important, but changing the website design without a clear purpose or unilaterally posting only the information that the company wants to convey. Instead, you need to create and post useful content that is in line with your search intent.
Then, while analyzing the behavior within the site after the user accesses the site, PDCA for improvement is turned around, that is the website "operation".
Focus on the user and everything else will follow. From the beginning, Google puts user convenience first. When developing new web browsers and modifying the look of the home page, we've focused more on users than on Google's internal goals and revenue. Google's top page has a clear interface, and the page loads instantly. We do not manipulate the ranking of search results in exchange for money. Advertisements clearly state that they are advertisements and present relevant information in an unobtrusive manner. When developing new tools and applications, we are aiming for a highly complete design that does not make users think that it would have been better to make it differently.
Source:10 Google Facts
As you can see from the above, Google always puts the user experience first. That pursuit supports Google's bottom line. By posting content that is useful to the user, the user's evaluation will rise, Google will evaluate it, and the site will be displayed at the top of the search result screen. In other words, sites that do not contain the information that users are looking for, cannot find the content that they want to solve immediately, or are left with old information will be evaluated by both users and Google. In addition to updating the content, we will also verify how the number of website visits and page views has changed since the content was posted. Furthermore, when online advertising is carried out to obtain the number of inflows, issues are extracted by analyzing what the result was and whether it led to inquiries. In this way, while continuing to improve based on the hypothesis, the results will be achieved by operating the website. By turning the PDCA cycle as described above, the results of B2B sales such as increasing the number of inquiries and acquiring business will come out.
In the next article, we will explain based on the success case study stories of our B2B clients.