Three years after the COVID-19 began to affect economies around the world, in order for companies to survive in the long-term with new era, we will build and maintain relationships of trust with our target user base, and utilize them in those efforts. It has become clear that we need to focus on the media medium. It is very important for businesses to understand how Thais use and depend on social media media. Of course, it is important for the company itself to maintain a balanced marketing strategy, but when allocating a media budget, it is necessary to make a marketing strategy with a good understanding of the usage status of the media with which the target contacts.
Understanding the current Thailand market situation in 2022
As of February 2022, Thailand's total population is about 70 million. According to survey data, there was an increase of 139,000 (+ 0.2%) between 2021 and 2022. Of these, 51.4% are women and 48.6% are men.
Internet usage in Thailand in 2022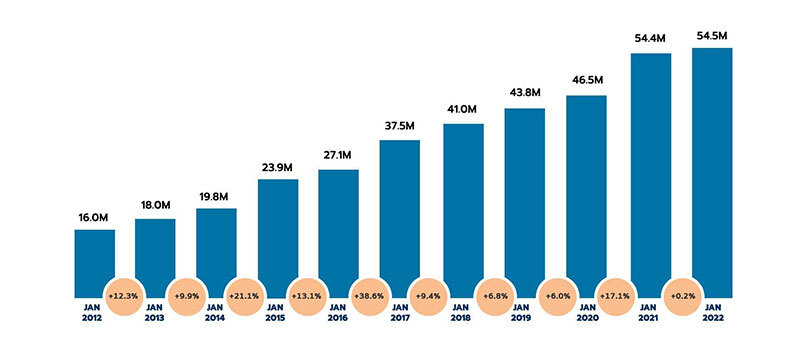 As of February 2022, there are 54.5 million Internet users in Thailand. Internet penetration in Thailand will be 77.8 percent of the total population at the beginning of 2022.
According to Kepios' analysis, the number of Internet users in Thailand increased by 108 thousand (+ 0.2%) between 2021 and 2022.
Also, looking at the usage time of the Internet, the data shows that the average usage time per day is 9 hours and 6 minutes. You can see that it has increased by about 20 minutes compared to the average daily usage time of 8 hours and 44 minutes in 2021 last year. It is believed that this is due to work at home and isolation of the home due to COVID-19 impact.
As of looking at the data of Japan, average daily usage time is half of this, 4 hours and 26 minutes, which is 1 minute higher than last year. Thai people seem to spend an overwhelmingly long time on the Internet compared to Japanese.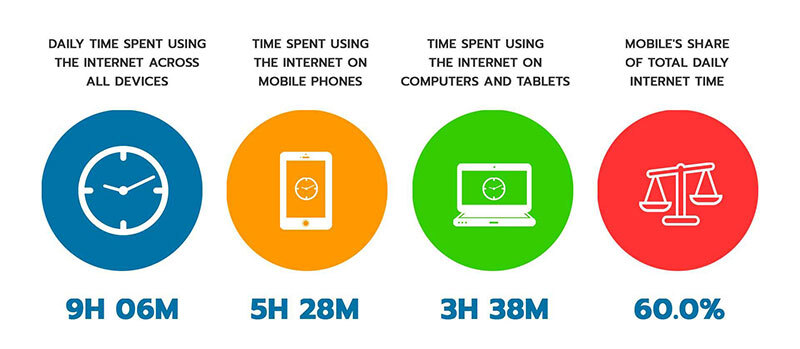 Social media usage in Thailand in 2022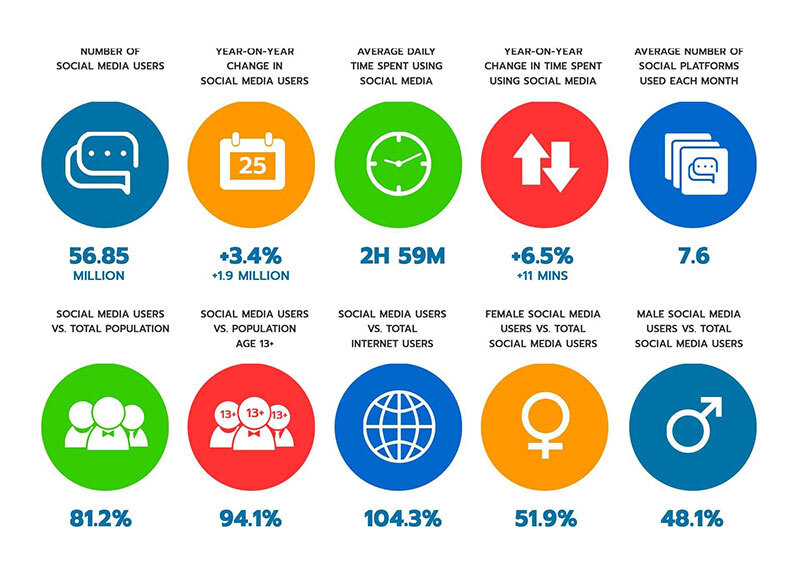 As of early 2022, Thailand had 56.85 million social media users, accounting for 81.2% of the total population.
It also increased by 1.9 million (+ 3.4%) between 2021 and 2022.
Facebook usage in Thailand in 2022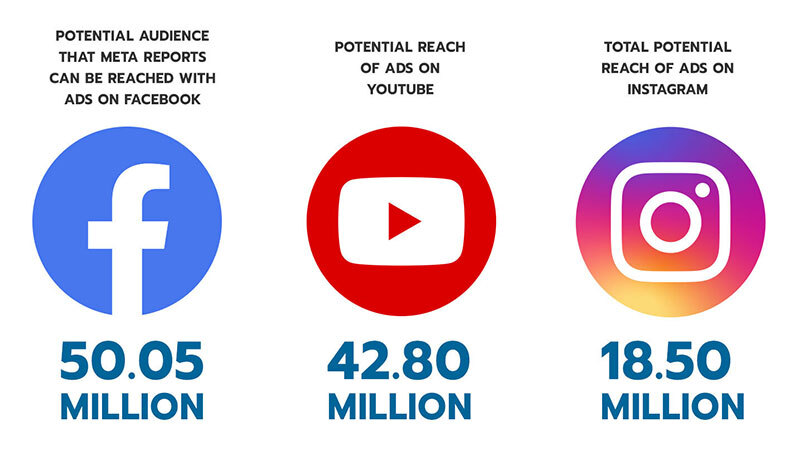 Meta, published in advertising resources, shows that it will have 50.5 million users in early 2022. Facebook limits the use of accounts to people over the age of 13, which means that 82.8% of users over the age of 13 will be using Facebook in 2022. In addition, 50.7% of Thailand's Facebook advertising audience was female and 49.3% were male.
YouTube usage in Thailand in 2022
According to Google Ads, there were 42.8 million YouTube users in Thailand in early 2022. It shows that 61.1% of the population has been reached by YouTube ads. In addition, 78.5% of Internet users, 52.2% of YouTube's advertising audience were women, and 47.8% were men.
Instagram usage in Thailand in 2022
As of February, there are 18.5 million Instagram users in Thailand. That's the number that 26.4% of the population is reaching for Instagram ads. However, as with Facebook, Instagram has a data limit of 13 years or older that can be used.
In addition, 61.1% of the advertising audience of Instagram in Thailand is female, and 38.9% is male, which shows that the ratio of female is very high compared to other SNS media.
Products and companies targeting women may be effective if they carry out campaigns and marketing measures that utilize Instagram media.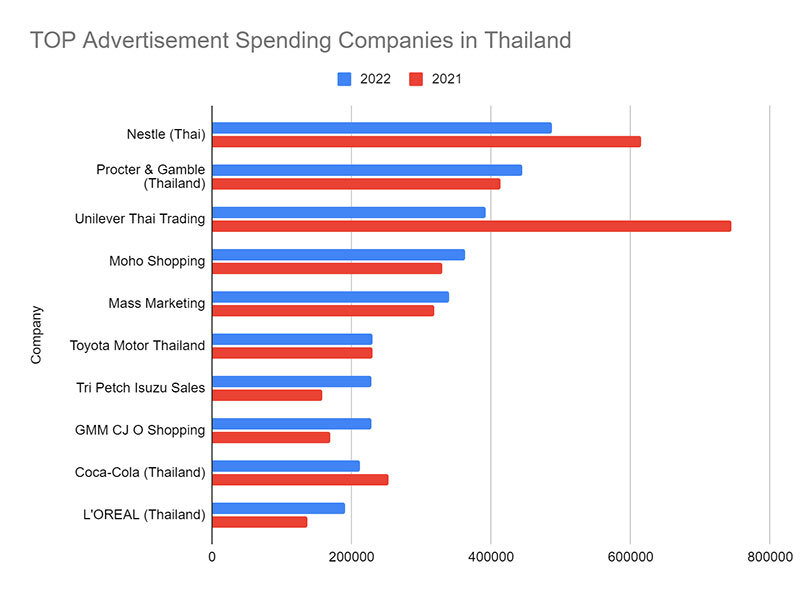 Next, let's see how much the Thai advertising industry has changed from last year to 2022.
Nielsen, a major research company, has released the latest data (data comparison as of February) on its official website. As shown in the graph below, when comparing 2021 and 2022, 2022 is lower overall, but movie theaters and outdoor advertising are higher in 2022. In 2021, a ban on going out and restrictions on the closure of some facilities were issued, which is thought to have affected advertising costs.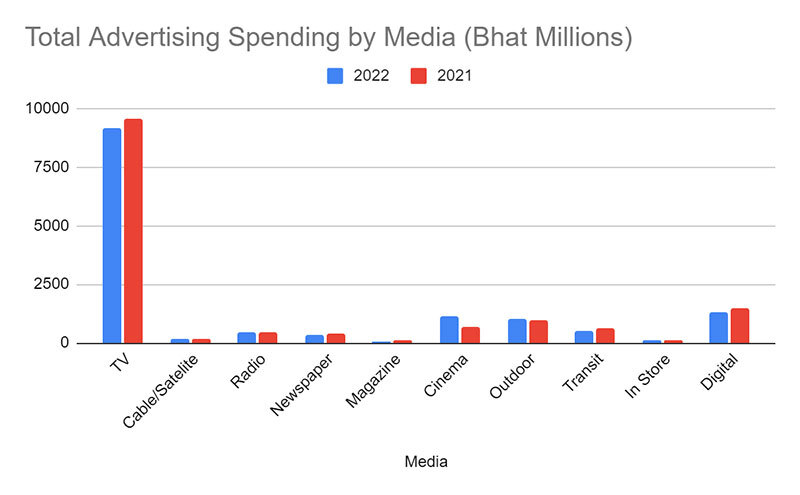 Next, let's look at the companies that used the most advertisements. Overall, it seems that advertising expenses increased in 2022, but Nestle, Unilever, and Coca-Cola seemed to have significantly reduced advertising expenses in 2022.
We have introduced the current situation of digital marketing and advertising in Thailand as of 2022.
In order to achieve results in digital marketing, it is necessary to make a strategy and an operation plan after grasping the situation firmly.
We also provide proposals, implementation operations, and consulting for successful digital marketing measures based on many cases.