In parallel with website operation, an increasing number of companies are increasing their investments in Google advertisements, popular communication applications such as LINE, and advertisements using social media such as Facebook.
In Thailand, where the digital shift is accelerating, digital marketing is becoming increasingly important. In order to promote business and achieve greater results in the digital domain, it is necessary to have a firm grasp of the latest digital marketing platforms and strategies that utilize them.
Let's take a look at the main platforms that will shape the digital marketing environment in Thailand in 2020.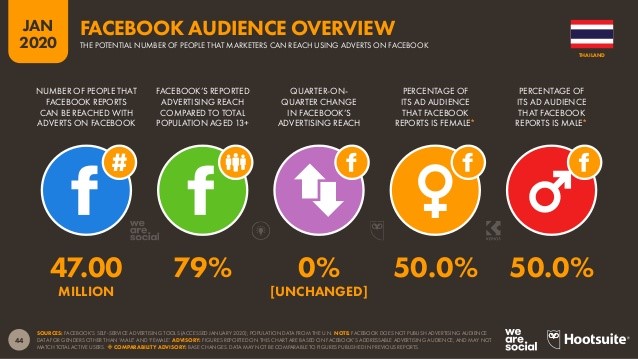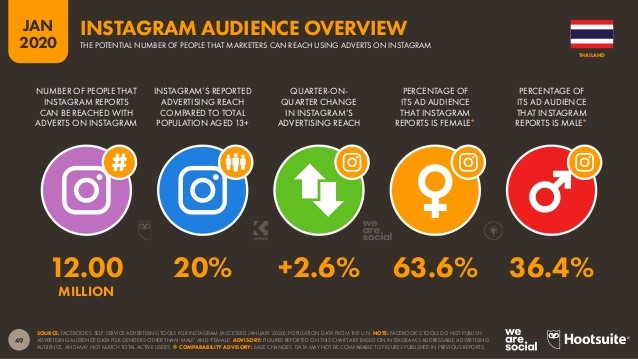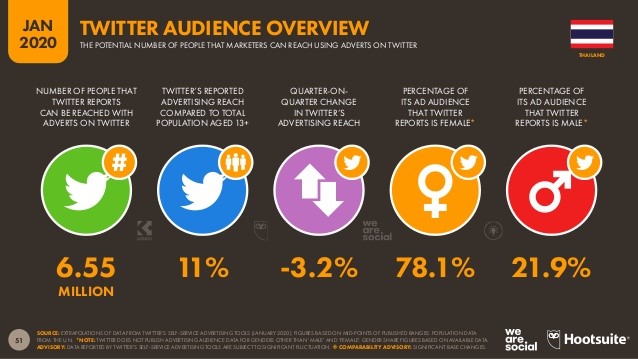 Source:Digital 2020 Thailand (January 2020) v01, DataReportal 
As you can see from the above data sources, Facebook (47 million) is the largest social media, followed by Instagram (12 million) and Twitter (6.55 million). From a digital marketing perspective, social networks such as Facebook, Instagram, and Twitter have the strength of being able to accurately target consumers.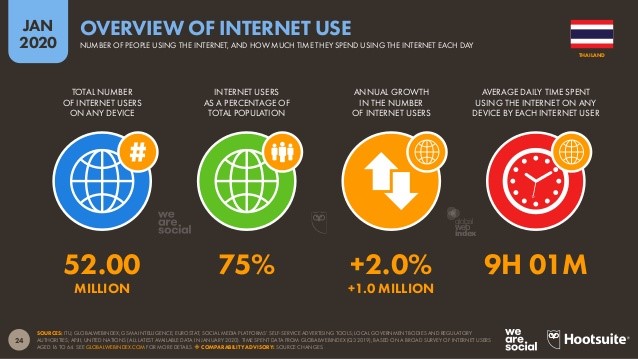 Of the approximately 69 million people in Thailand, 52 million use the Internet. More than 47 million social media users use Facebook.
Active net users in Thailand use these social media for an average of 9 hours a day. It will be important to actively utilize the platform that serves as a rich contact point for customers in marketing campaigns, etc., and actively approach the target group.
Above all, Facebook has become the mainstream in the media world with its unique method that no competitor has. It can be used for various strategies such as conducting campaigns for each target in order to raise awareness of the company's products and brands. We also found that posts, especially those with video content, had the highest engagement rate of any type of Facebook post.
The popular communication application LINE has 42 million users in Thailand, of which 39 million browse the timeline. Statistics show that about 90% of users are looking at the timeline.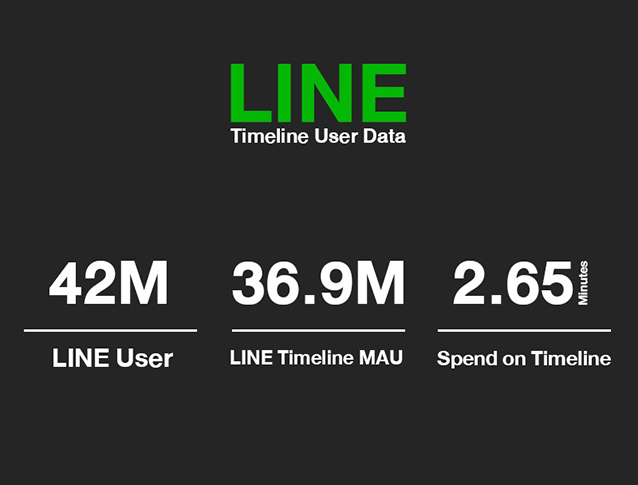 The key is to make a firm strategy understanding clearly what platform is desirable for the target and to know about which medium to use to achieve more effective sales.
Please feel free to contact us if you have any problems, such as considering expanding into Thailand or not being able to successfully connect to sales!