Project Overview
Client :  Summit Capital Leasing (Sumitomo Corporation Group)
Service Category : Digital Marketing Support
Summit Capital Leasing, established in Thailand as a Sumitomo Corporation group company in 1994, is a leading financial company engaged in personal loans, motorcycle loans and mortgages. Until now, digital marketing had not been started, but it was decided to start online communication based on the judgment that the internet usage had reached almost all Thai consumers.
Project background
The following digital marketing measures were implemented with the aim of raising corporate brand awareness to Thai consumers and instilling awareness of each financial product.
SNS management
We have started Facebook management for Summit Capital Leasing Facebook page.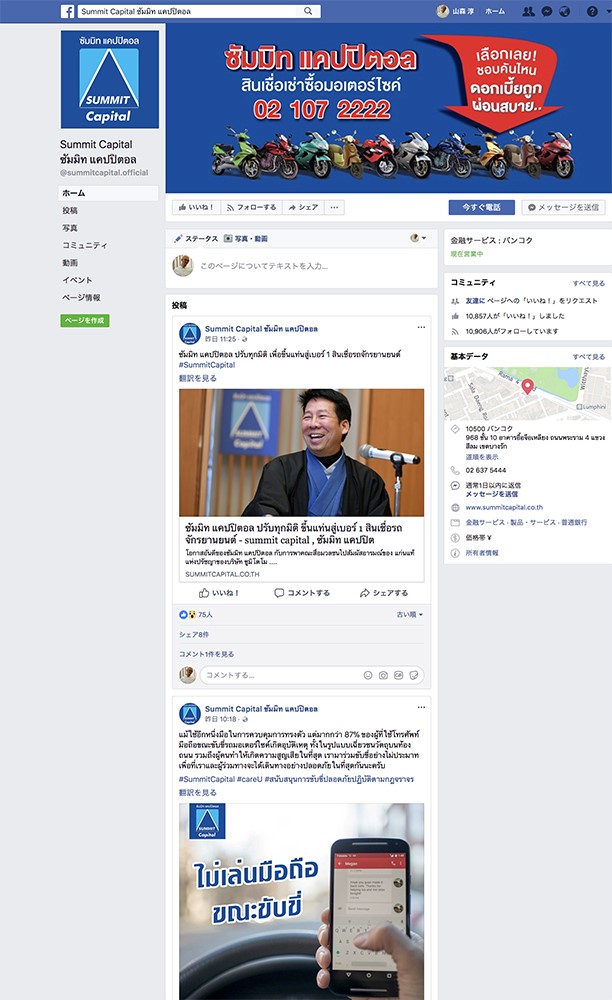 Works
Content Planning
Content Creation (content itself/ image etc)
Content Posting
Campaign Planning and Implementation
Account Management (responding to messages and comments)
Report
Online Advertisement
We carried out online advertisements such as Facebook and Google AdWords to increase awareness of companies and products and increase inflow to websites and Facebook pages.
Works
Advertisement planning
Advertisement creative
Advertisement setting and operation
Report
Project Result
We were able to provide total support from planning to implementation and operation so that we can send out attractive and active brands and products that they had troubles in recognition towards the target audience.
After project implementation, the number of fans also increased at a much higher pace than the target number, and not only the number of accesses to the website and the engagement rate increased, but the number of inquiries for personal loans and motorbike loans via Facebook increased. In addition, it is a policy to further expand the scale of digital marketing.