Many B2B companies believe that video marketing could be effective for B2C companies but not to them. Until now, the content used to be mainly text and images, but video is now becoming one of the essential marketing methods. So how can it be used to support business growth? We will explain the reason why B2B companies should do video marketing.
5 reason why B2B companies should do video marketing :
1. Google Loves Videos
2. Increase Inquiries
3. Viewer Loves Videos
4. Easily Explained
5. Segment and Direct Approach
Introduction
How often do you watch videos every day? In Thailand, as of January 2020, 52 million of Thailand's population of approximately 69 million people are using the internet.The most used internet medium, Youtube comes next after Google, with an average of seven videos being watched every day. This number has been increasing due to the COVID-19 and with the announcement from the government for lockdown and everyone had to stay home. In the B2B market, holding seminars and exhibitions are the main source for them to announce their services and to get potential customers. Due to the COVID-19, a lot of B2B companies lost these opportunities to hold seminars and exhibitions which were their main customer contact point to introduce their services. In order to turn around this situation is to use videos to distribute their services and products and use them as sales tools for online business negotiations. The use of videos tailored to business situations is increasing, and demand is expanding as an effective marketing method.
1. Google love videos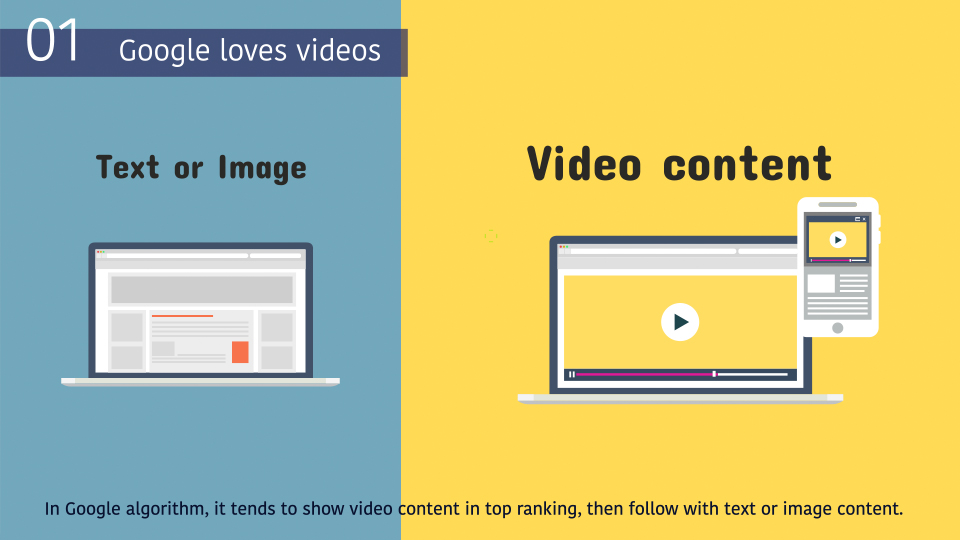 Google always uses its own algorithm to select websites and provide the best content to its users. This means that there is a strong tendency to show content that includes videos over text and images. If the video is embedded on your site, Google is more likely to show it on the first page instead of pushing it below the search results. Since the user has a higher probability of clicking the content displayed on the first page of the search results than jumping to the second and subsequent pages, Google will display the page the user is looking for on the first page of the search results Become.
2. Increase inquiries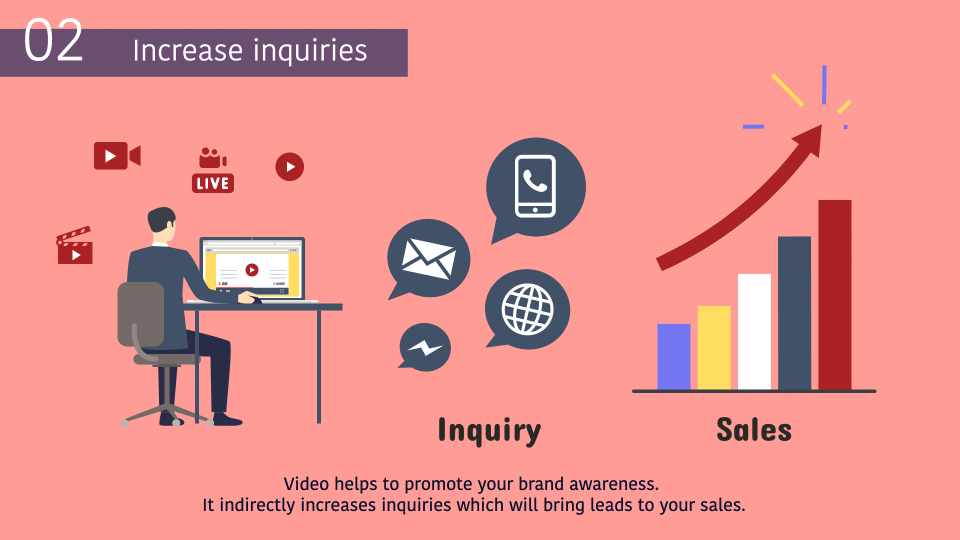 The current tendency of users is to search online immediately for the information they want or the problem they want to solve. As a result, there is a strong tendency for the traditional sales method, which involves repeated meetings, to be shunned. Buyers first search the internet to gather information about the products and services they need. If it matches the video the user is looking for, then watching the video without having to make an appointment directly increases the chances of requesting additional material or contacting us. Making good use of videos makes it easier for prospects to attract you. By expressing actual usage scenes and service contents not only in text but also in motion, it is possible to deepen understanding of how to use products and services, and to easily express the flow of products and services and the feelings of users. The videos are posted on the website to deepen the understanding of the products and services and guide them to purchase the products and services. It means that prospective customers who watched the video can connect to the inquiry without face-to-face by knowing the product/service or brand from the video.
3. Viewer loves videos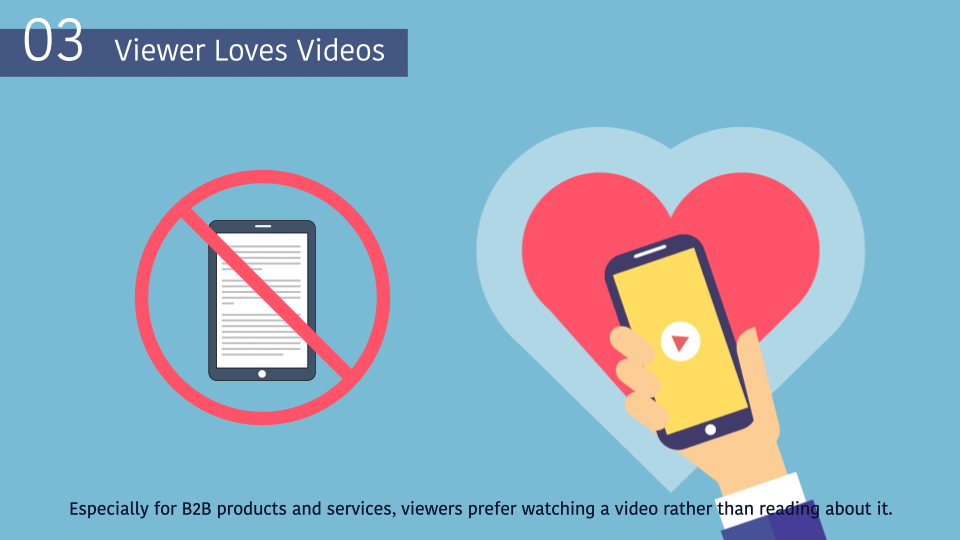 Since more than one-third of online activities are related to watching videos, using videos in your business is more likely to attract new and prospective customers.
Therefore, video marketing is very useful and effective in raising awareness of your products or services, or increasing inquiries. Over 80% of customers prefer to "watch" a video about a product rather than "read" about it.
4. Easily Explained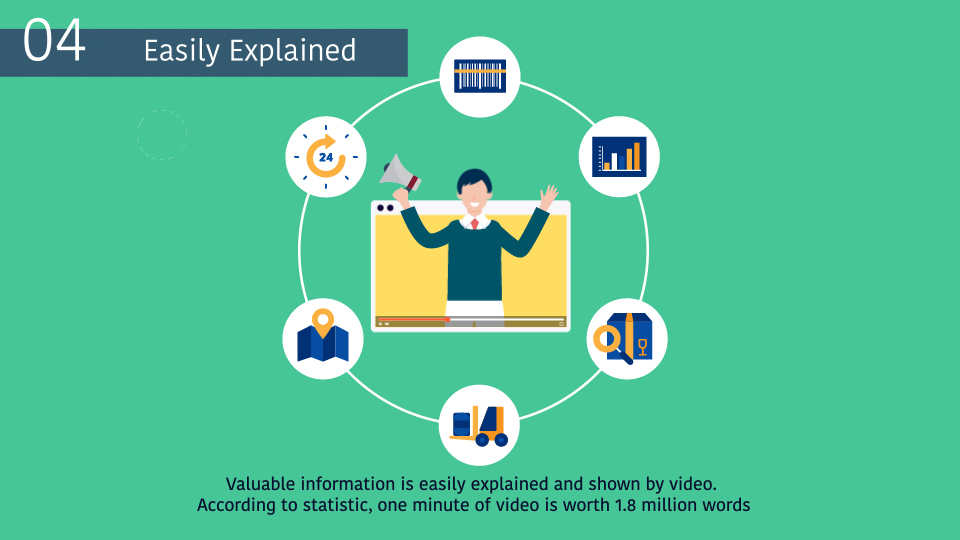 Video can clearly convey points that cannot be conveyed only by text or images. The biggest advantage of using video for B2B marketing is that you can easily appeal product value that cannot be conveyed by images or text. According to a survey conducted by Forrester, a 1-minute video has 1.8 million words, and the website has 3,600 pages worth of information. By mixing sounds and images, it is possible to create content that will leave a strong impression on target audiences. Also, by placing a video on the landing page of the product description, it will be possible to attract more viewers. In the case of B2B, it's important to explain how products or services can benefit the company. It is necessary to get people to understand the merits of introducing various products such as cost reduction, time reduction, and sales force improvement. By using videos, you can easily appeal not only the merit of the product but also the usability and installation procedure. Dropbox, which is now recognized all over the world, said that they had a hard time approaching users for their service when they first launched. Therefore, with the use of video, they have successfully reached to the users with their world's first online storage service.
5. Segment and Direct Approach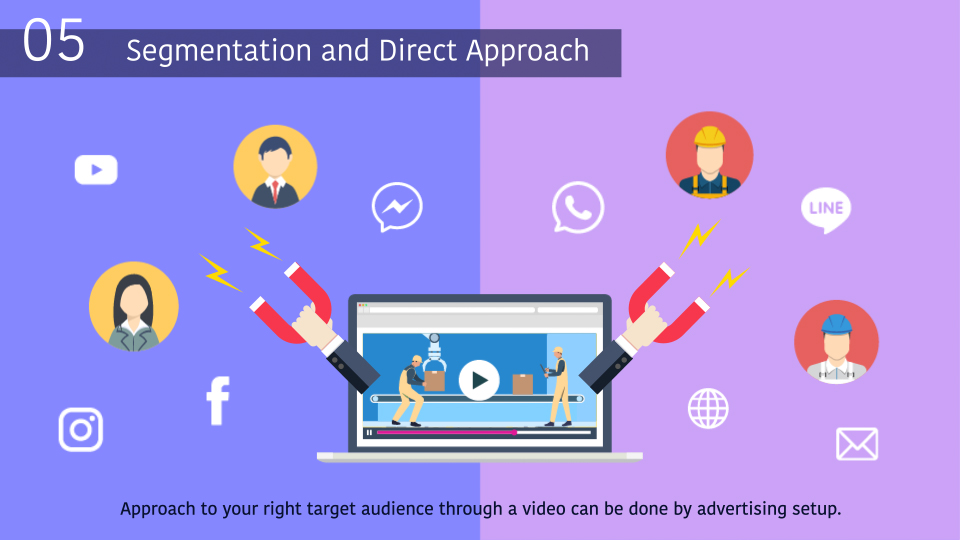 The result is limited only by making a video and placing it on the website. Therefore, it becomes possible to further deliver to the target audience through advertisements to prospective customers. Unlike a banner ad composed of images and text, a video ad can convey even detailed nuances. It also gives a strong impression, which is effective for improving awareness and promoting the brand image. On YouTube and SNS, advertisements can be placed at a relatively low cost, and it is possible to set advertisement delivery settings for segmented "want to see" users. Optimal targeting for your products will enable cost-effective ad delivery.
Summary
As the demand for video marketing by B2B companies is increasing, it is important to understand the benefits of video marketing and how it can contribute to grow your business. We will discuss with your company, clearly understand your company's services, who your targets are, who your competitors are, etc., and we make the purpose and content of the video, and then make the video to effectively reach your audience. Also, as a video production procedure, we will propose a storyboard (frame division of video content) and we will carefully pack the content before production work. If you know that you need to make a video, but don't know what to do, please feel free to contact us!