Introduction
More than half of the world's population is now Internet users, and convenient services are being created every day that can be used on the Internet, from search and email to social communication, online games, and shopping for daily necessities. Statistics show that in Japan, 118 million (94%) of the 127 million people are Internet users, and Thailand also uses the Internet at a high rate of 57 million (82%) out of a population of 69.24 million. Is out. However, even if the usage rate is similarly high, the usage of the Internet differs between the two countries. If your company expands the use of the Internet in business, you may be confused by the gap. In this article, I would like to explain the current Internet usage situation in Thailand in comparison with Japan.
All the data in this article is based on the data of We are social as of January 2019.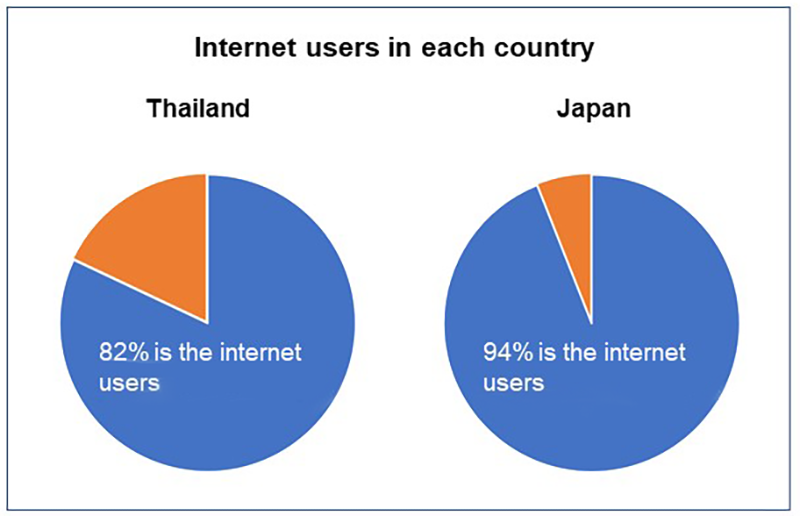 Device used
The major difference in Internet usage between Japan and Thailand is the difference in the devices used. There are various types such as PCs, mobiles, tablets, and game consoles, but they can be broadly divided into PCs and mobiles. It is said that the number of young people who use PCs has decreased in Japan in recent years, but the Internet has only become widespread since the days when there was no mobile Internet, and there are still more people using the Internet on PCs than on mobiles. Websites have become mainstream to support both PC and mobile, but in most cases, websites will be created on the assumption that they will be viewed on a PC and will be compatible with mobile.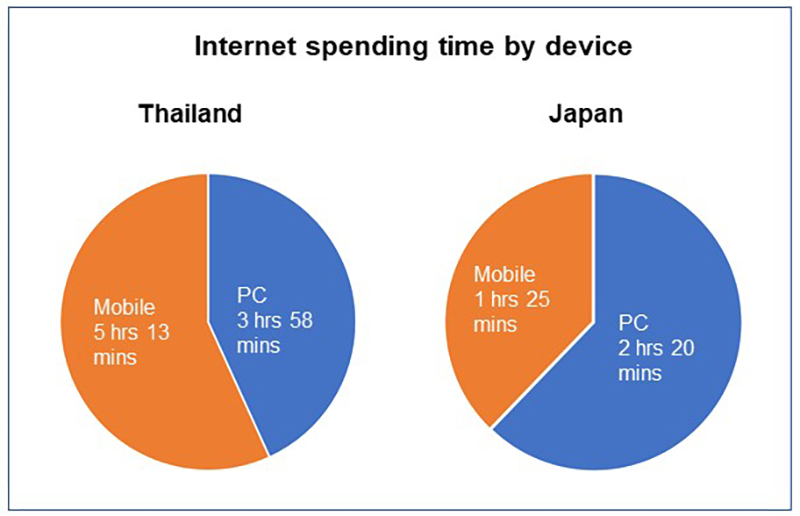 The average daily internet usage time is 1 hour and 25 minutes for mobile and 2 hours and 20 minutes for PC. On the other hand, in Thailand, the Internet and mobile have spread rapidly in recent years. Regarding the spread of mobile, Thailand has a population of 69.24 million and 92.33 million (133%), which is higher than the population as in Japan. (186 million people (147%) in Japan) Since mobile appeared before PCs were fully penetrated, there are more mobile users than PC Internet users in Thailand. The average daily internet usage time is 3 hours 58 minutes from a PC and 5 hours 13 minutes from a mobile. If you want to send information to Thai people on the Internet, use it from your smartphone, such as whether the page layout is mobile compatible, the buttons are not difficult to press, and the image is large enough to be seen on the smartphone screen. It is necessary to consider the above.
Internet spent time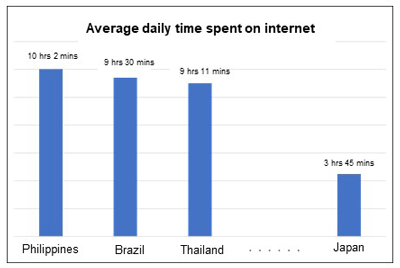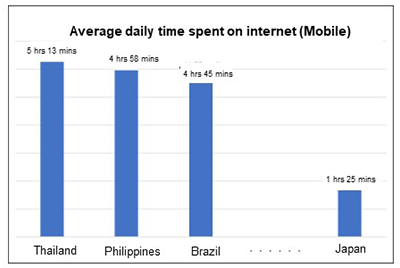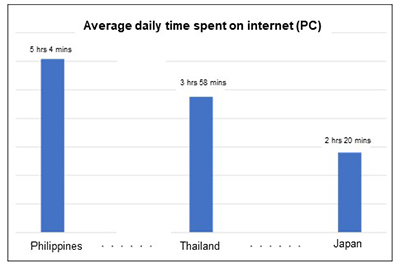 There are also differences in internet usage time between Japan and Thailand. It is easy to think that Japan, a developed country, uses the Internet more actively than Thailand, which is an emerging country, but in reality, Thailand spends much more time on the Internet than Japan. The average daily usage time of Internet users is 3 hours and 45 minutes in Japan. This is a surprisingly low number of 40th place compared to other countries in the world. On the other hand, Thailand has 9 hours and 11 minutes, which is the third highest in the world after the Philippines and Brazil, showing that the amount of internet usage is extremely high. As mentioned in the previous section, the average daily Internet usage time from mobile is 5 hours and 13 minutes, which is the highest in the world. (Japan ranked 43rd in 1 hour and 25 minutes) It was only in the last few years that Thailand's Internet usage rate began to rise sharply, and high-speed communication throughout Thailand due to the establishment of Internet infrastructure by government policy. It is thought that the fact that it became available has a great influence. Even in Japan, walking smartphones are a problem, and the amount of smartphones used is quite high, but there is a difference of 2 to 3 times compared to Thailand. Possible reasons are that Thailand is introducing free wi-fi and has a place where you can use the Internet without worrying about packets, and watching videos on your smartphone in a store that is open. There may be an environment where it doesn't matter much even if you play with your smartphone during work to see the scene. In any case, the increased use of the Internet should increase business opportunities. Even when disseminating information, it is necessary to formulate a strategy that takes into account the online situation in Thailand, such as which media such as Facebook, Instagram, and Twitter should be used for efficient recognition.
Social Media usage
It was found that the average daily Internet usage time of Thai Internet users is as high as 9 hours and 11 minutes. So what are Thais mainly using the Internet for?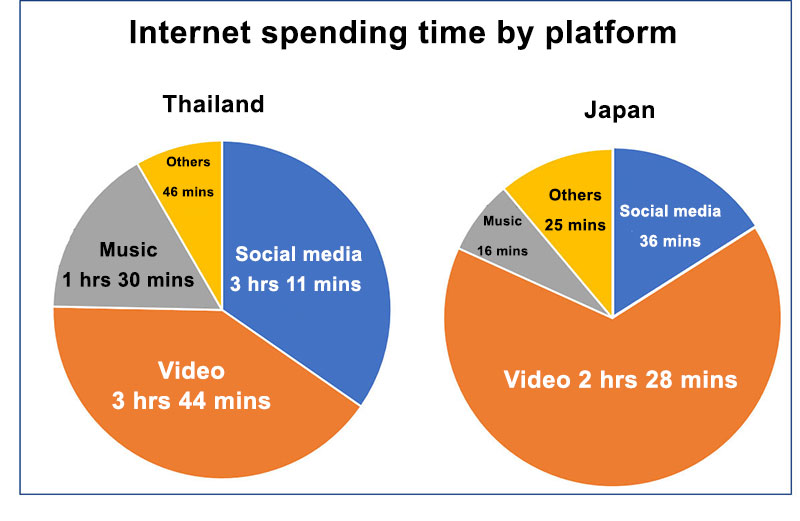 Video services have the longest usage time, with an average of 3 hours and 44 minutes. The same is true in Japan, where video services are overwhelming at 2 hours and 28 minutes, compared to 36 minutes for social media and 16 minutes for music services. However, what I would like to pay attention to here is that the usage time of social media in Thailand is 3 hours and 11 minutes, which is comparable to that of video services. Due to the nature of video services, the usage time during visits tends to be long. Even when comparing the "average time spent per visit" of the top 20 most visited sites in the world, including Google and Facebook, only YouTube exceeds 20 minutes. (Google 9 minutes 12 seconds, Facebook 11 minutes 44 seconds, YouTube 21 minutes 36 seconds) Therefore, it can be seen that Thai people spend a relatively high amount of time on social media. Twitter is the most active social media service in Japan, but only 49% of all Internet users. In contrast, Facebook, the social media service with the highest number of active users in Thailand, accounts for 93% of all Internet users.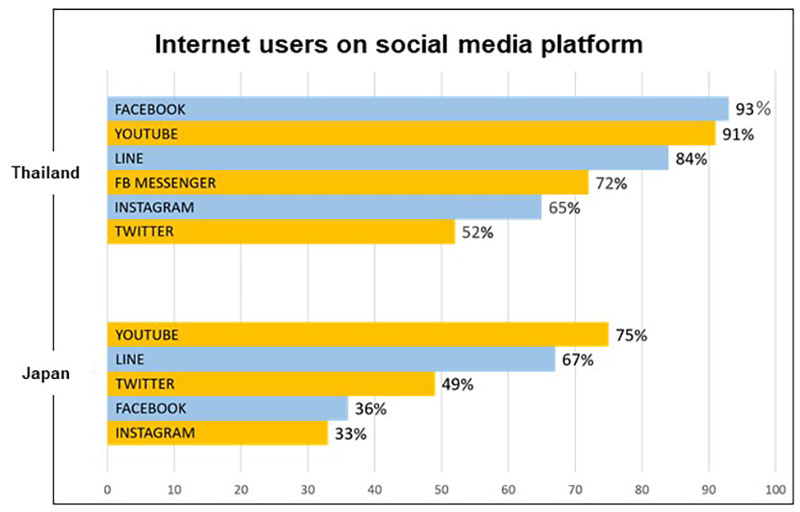 If anyone is using the Internet in Thailand, there is a 90% or more chance that they are using Facebook, which is an amazing number. You can see the importance of using Facebook when disseminating information in Thailand. Other than Facebook, the number of Instagram and Twitter subscribers also exceeds the majority of all Internet users, and it is also an effective strategy to get the help of influencers (users who have influence on social media) when marketing.
E commerce Service
In Japan, there are many services that allow you to shop online, such as Amazon, Yahoo Auctions, Mercari, and Rakuma, and they have become well-known in everyday life. It is said that 68% of Japanese internet users have now shopped online. Even in Thailand, the percentage of people who have shopped online is 80% of Internet users, indicating that the EC market is well-known in everyday life.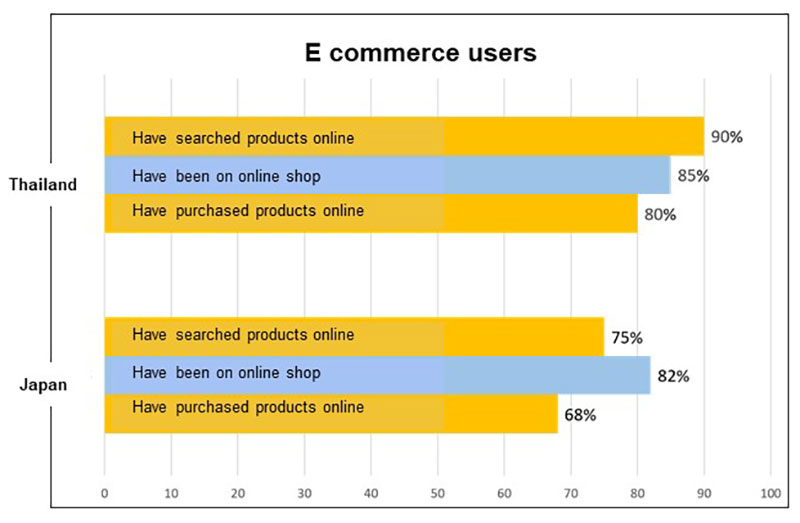 Commonly used services in Thailand include Kaidee, Lazada and Shopee. Kaidee is Thailand's largest C to C (consumer-to-consumer) e-commerce site with 30 million members. Compared to Mercari in Japan, there are some hurdles on the selling side because it costs more to list, extend the listing date, and take a place for a prominent posting position. Since it does not have an electronic payment function, it is basically discussed individually and the products are delivered directly. Although it is optional, the need to include personal information such as telephone numbers in order to gain the trust of buyers may also be a factor raising the hurdle on the selling side. Many sellers are doing it as a side business, and the impression is that users are clearly separated by sellers and buyers. Not only clothes and electrical appliances, but also platforms dedicated to real estate and passenger cars have been created, and it seems that they are also producing good results. Lazada and Shopee are B to C (business-to-consumer) e-commerce sites, both of which provide services not only in Thailand but also in Southeast Asian countries such as Malaysia, Indonesia, Singapore, the Philippines and Vietnam. Lazada is only called AMAZON in Southeast Asia, and the number one access is unwavering, but Shopee, which was just established in 2015, also has a large number of members thanks to its focus on advertising such as TV commercials and outdoor signboards. It increased sharply and grew rapidly. Since it is B to C, general consumers cannot sell it, but there are many registrations such as private shops and the product lineup is abundant. They also sell daily necessities and consumables, and many people check their beans because they can buy them cheaper than at stores if they aim for sale. The payment method also supports card payment online banking and cash on delivery, so the hurdles for purchasing are low and safe. It will be interesting to see how much the Thai EC market, which continues to expand, will grow in the future.
New service trends
Both Lazada and Shopee are e-commerce companies operating in Southeast Asian countries, but Lazada Thailand has been completed in Thailand and Lazada Malaysia has been completed in domestic transactions. But if your company considers the opportunity to sell things online, you'll want your products to be seen and bought in as many locations across countries as possible. Recently, cross-border EC, that is, EC that crosses countries, has become popular. It is a service that enables transactions across countries using EC sites such as Lazada and Shopee. For example, with a service called ECCS (Enterprise Commerce Cloud Service), you only have to list once, and you can list multiple EC sites such as Lazada and Shopee at the same time in each country. When a product is sold, if you place inventory locally, the carrier will be notified and you will be able to deliver the product. Furthermore, it is possible to aim for upsell and cross-sell by acquiring the information of the customer who purchased it and delivering the advertisement suitable for that customer. If you purchase information on the Internet properly, you can use efficient methods with less effort to improve your business performance. Since EC in Thailand is developing steadily, how to utilize EC using the Internet for its own business will be a point of attention in various places in the future.
In addition, there are services that can take advantage of the large number of Thailand Social media active users. For example, a tool called Visumo (instagram marketing tool), which is rapidly becoming popular in the marketing field today, which collects the photos related to the company's products from the photos posted on Instagram by the general public, display on the company's site, to generate direct sales from there. It allows you to draw an effective customer journey flow. You can use Instagram to improve sales and brand image. Rather than spending a lot of money on TV commercials for consumers who are injured by advertisements, Instagram, which appeals products by consumers themselves, is spreading in Thailand because it has a high word-of-mouth effect and is cost-effective.
Summary
Internet usage in Thailand is increasing year by year, and the Social media and EC markets are still expected to expand. For those who are doing business in Thailand, how to connect their own business with the Thai Internet will be an issue. We are happy to help you with digital marketing for the Thai market. If you have any problems, please feel free to contact us.