More than a year has passed since COVID-19 had a major impact on the world's economies. In 2021, online is inevitably increasing, forcing many companies to rethink and restructure their marketing strategies. I would like to introduce how the Internet is currently being used in Thailand, where the development of Internet infrastructure is progressing rapidly, and what kind of online measures are effective in Thailand based on these.
Internet situation in Thailand
First of all, the big difference between Thailand and Japan is the internet usage time of internet users. 70% (about 50million) of Thailand's population of about 70 million uses the Internet, an increase of 3.4 million compared to last year, but what we would like to focus on is its spending time. Thailand spends an average of 8 hours and 44 minutes a day on the Internet. That is double the spending time of Japan.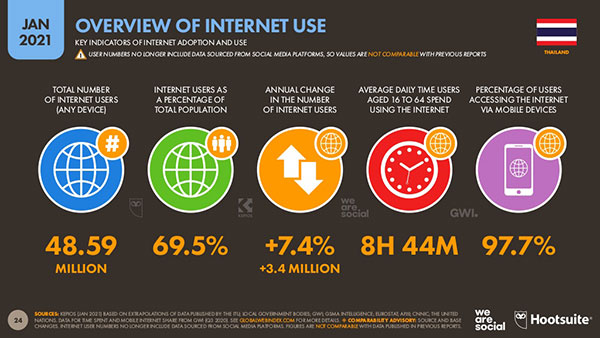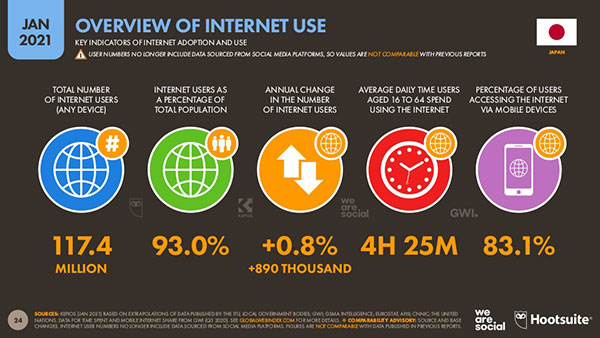 There are many cases that we actually had from our clients that when we proposed the marketing strategies to meet the Thailand market,  client's headquarters in Japan rejected the whole concept as they could not imagine it would work or understand the behaviour of Thai people in the Thailand market as they only know the Japanese trends or behaviours. Therefore, it is extremely important to understand and create a strategy based on the actual datas.
Social media situation in Thailand
Here is the 2021 Thailand's latest social media stats. The most used social media platform in Thailand is Facebook, which has 51 million users (more than 70% of the population). Next is Youtube of 37.3 million people followed with Facebook's chat function messenger of 37 million users.

On the other hand, the data for Japan is as follows.
In Japan, Youtube is the overwhelming number one. On the other hand, Facebook, which has the highest number of users in Thailand, has extremely small users in Japan.

The way social media is used is also quite different compared to Japan. First is the time that users spend on social media, which the average daily spending time in Thailand is 2 hours and 48 minutes, while that for Japan is only 51 minutes.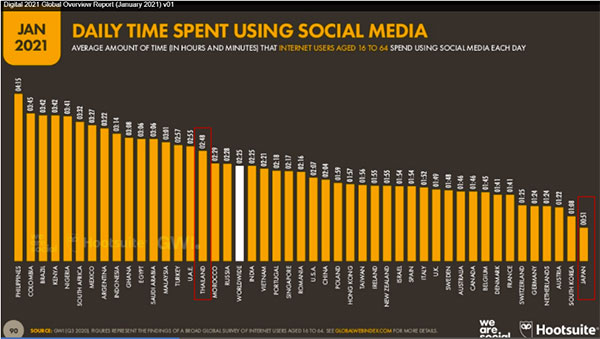 n Thailand, it is common to use social media such as LINE and Facebook to communicate with customers and business partners in business scenes. In Japan, normally Yahoo or Google is used when searching, but in Thailand, there is a tendency to search using social media such as Facebook and Instagram as well as with Google. This applies to both B2C and B2B products or services.
Based on these facts, many B2B and B2C companies are using Facebook as their website as a contact point to target users. B2B companies actively distribute their own exhibitions and seminars using Facebook as well as to introduce their products and services. B2C companies are also achieving results while gaining engagement with users through campaigns on Facebook and Instagram. It will be possible to create strategies for each segment, such as grouping users who follow Facebook pages or take some action on posts and send advance information and VIP information to the target. Facebook has become one of the most effective platforms in Thailand.
On the other hand, this situation is very different from the Japanese market, where the number of Facebook users is as small as 18% of the population, even if the Thai branch office of a Japanese company explains its importance, the understanding and approval from the Japanese head office can be obtained. However, many people are worried that they cannot take measures that utilize social media. Applying the same strategy with Japan to the Thailand market will sometimes not be effective and there are cases where the results are not achieved and the performance is disappointing. Understanding the current situation of the Thai local market is of utmost importance.
Current status of advertising in Thailand
Thailand's digital advertising spending increased 16% from 2018 to 2019, and Thailand has continued to grow rapidly in the last few years, but due to the arrival of the COVID-19 pandemic has drastically slowed down the rate of growth from previous double-digit numbers to now just +0.3% by the end of 2020. 2020 saw a significant slowdown of + 0.3% year-on-year. The total is about 19.6 billion baht, which is 58.8 billion yen in Japanese yen (calculated at 1THB = 3 yen).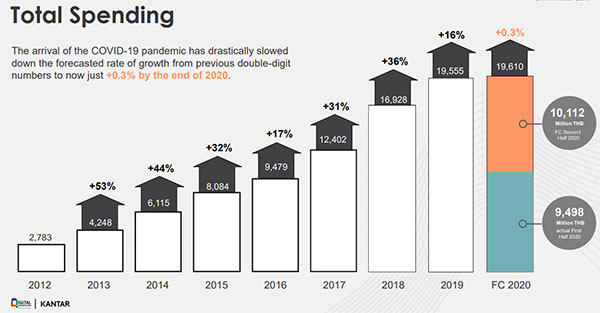 (Source: DAAT-Mid-Year-2020-Press-Report)
Let's take a look at the five most advertised industries spenders in the latest data for 2020. Although it has decreased by 200 million baht from the previous year of 2019, the industry that has been investing advertising expenses from 2017 to 2020 is the motor vehicles industry. As banks shrank by 350 million baht, the beverage industry, which was previously 4th to 5th, ranked into 3rd place, and the dairy and dairy substitute products industry showed record-high growth rates of 39%. It can be inferred that this was the result of the declaration of self-restraint in 2020, which forced the nesting.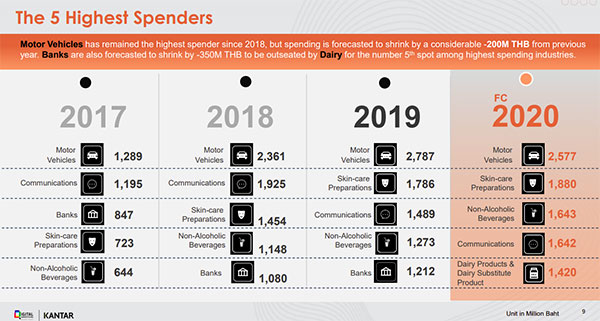 In addition, Facebook, YouTube, and creative are still key areas for advertising spending by the media, with minimal spending declines since 2019. As of the end of 2020, Google Search Advertising and social media are leading growth rates of + 32% and + 26%, respectively. Google Display Network (banner ads), Instagram, and affiliate marketing spending was the lowest at -30%, -13%, and -13%, respectively.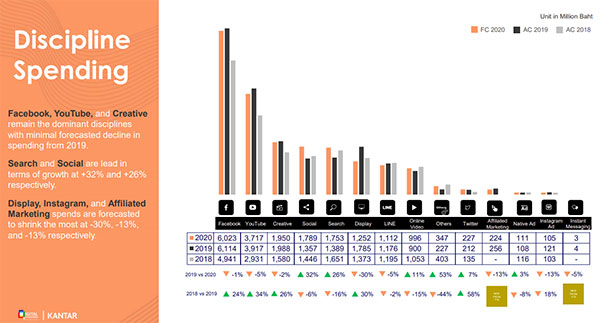 While the number of advertisements is decreasing due to the influence of COVID-19, we will further educate the company about the importance and necessity of digital, accelerate digital transformation (DX), and change the current way of working to adapt to the new normal. It is becoming more important to reexamine and rebuild.
We have more than 20 years of experience and provide business support to Thailand, Malaysia and Asian countries. We provide thorough support from problem extraction for B2C / B2B companies to action design, strategy creation, and execution. If you have any concern about marketing measures or current issues, please feel free to contact us!