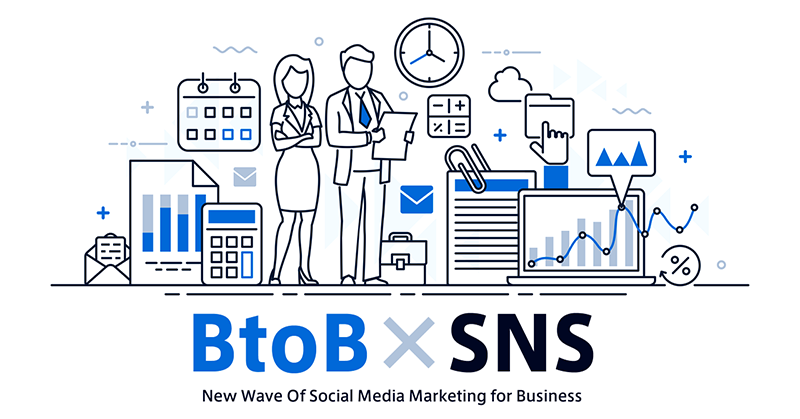 Most popular social media platform Facebook is used by 90% of internet users in Thailand. It is used as a channel for marketing communication. This is now a more reachable vehicle than mass media such as television and newspapers. By actively reaching out to users, it is possible to build new forms of engagement with customers and potential customers.
Recently, the use of social media has become commonplace even in companies that specialize in B2B business. In this blog, we would like to mainly explain the benefits of using Facebook for B2B companies.
By using Facebook, you can:
1. Increase awareness and penetration of companies' brand and products
2. Generate users to access website
3. Posting of various contents can be distributed to the target audience
4. Build relationships with existing customers and potential customers
Each will be explained.
Introduction
Until now, many Thai B2B companies think that they don't need Facebook, they can't imagine utilizing Facebook will lead to conversion, and that often in their mind, Facebook is not suitable for B2B. It is easier for them to imagine B2C companies to use social media. If it's a product that makes it easy to disseminate information in various situations, such as "This was delicious," "This is really useful," "I bought this cute clothes," there is no doubt that it will be an excellent communication channel for them to use Facebook in this case.
On the other hand, in the case of a B2B company, the information transmission such as "I have implemented the equipment of this manufacturing company" and "I am using this solution of this company" is not very common for individuals to share. Then, how can we, for the B2B companies that service for medical equipment, heavy equipment, software, etc. approach their services and products using social media platforms? Is B2B really not suitable for social media use?
The Importance of B2B Companies to Utilize Social Media in Thai Market
Actually, B2B companies that handle such products or services should use social media! B2B products tend to be purchased from business operators when there is demand for switching or replacement, but it is no longer easy to maintain and grow profits only by the relationship.
In such a business environment, if we have to cultivate new customers in order to sell more of our products and to sell them widely, it is important that the awareness of the company and products has spread among the audience. Many B2B companies have begun to recognize the need for continuous information dissemination measures for target groups, and the importance of utilizing social media as a means to realize it has been attracting attention.
1. Increase awareness and penetration of companies and products
For example, a purchaser who is considering replacing a heavy machine or equipment starts from collecting information. However, if the company name and product name do not permeate the person in charge at the stage of deciding which company to collect information from and which website to access, they will take no action. In other words, B2B companies must make engagement with the people who can be their target in daily lives.
In Thailand, the use of paper advertising media such as WISE and the business information site SAMURAI ASIA can be seen as a means of gaining recognition of Japanese B2B companies. However, the number of advertisements in such media is limited, and it is not often seen unless you are looking for specific information. In Thailand, 90% of Internet users use Facebook and spend more than 9 hours on the Internet everyday. We are constantly receiving information from social media in our daily lives.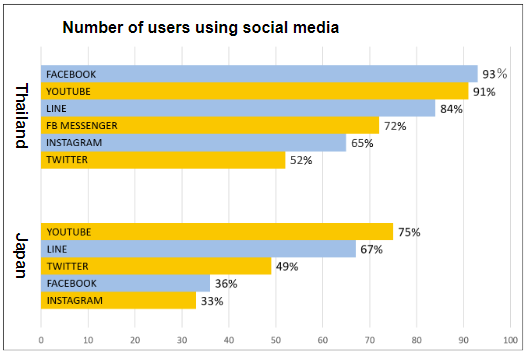 2. Generate users to access Website
Content SEO is widely used as an inbound marketing measure that allows customers to make inquiries. It is one of the marketing strategy methods of publishing excellent content on the company's site without spending advertising expenses and captures the potential customers to access your website from search engines. However, it takes a certain amount of time for content SEO to be displayed at the top of search engines. Social media marketing is one way you can quickly see the results. Uploading excellent content on social media, and from there generate website access which provide more detailed information.
3. Posting of various contents can be distributed to the target audience
In order to reach your target is by advertisement. On Facebook, when setting advertisements, it is possible to set based on the user's geographic information such as the location, age, gender, as well as their interests such as medical science, heavy machinery, building etc. In addition, it is also very effective to firmly target the target audience by posting useful content even if it is not directly related to the company's products/services. It makes them aware of their products/services by getting attention first then leading to their products/services in the next stage.
4. Build relationships with existing customers and potential customers
There are also cases where Facebook is used but it does not immediately lead to an increase in sales. It is important to build relationships with users before making unilateral posts such as "Please buy this product/service". In other words, in order to build a sense of trust and familiarity from users, we regularly carry out campaigns on Facebook, and deliver interviews with employees of the company, work scenes, events, etc. to build trust and reliability from target audiences. It will gradually lead to the mindset of considering the products and services of this company.
Here are some examples of how B2B companies in the Thai market are using Facebook.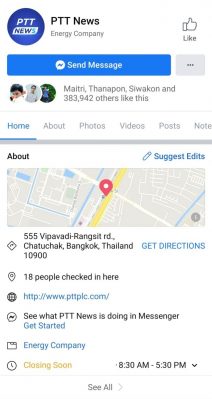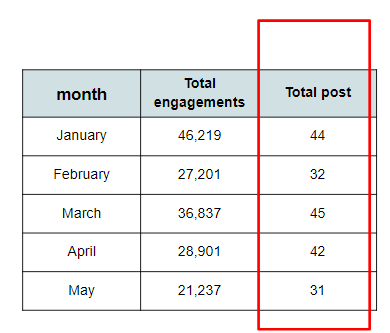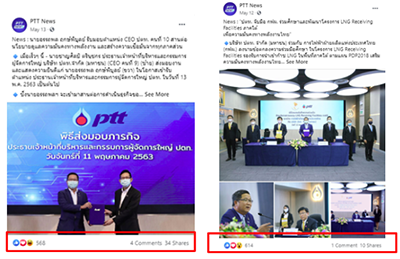 PTT News upload information through Facebook with a large number of posts each month, and actively builds relationships with customers. Mainly to build credibility with users, they actively upload posts about what the company is doing.
Note: Engagement is the action taken by a user on a post. (Example: Good, share spread, comments, etc.)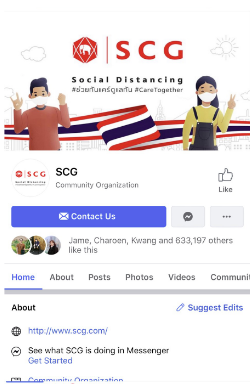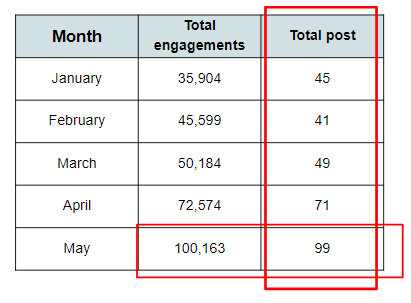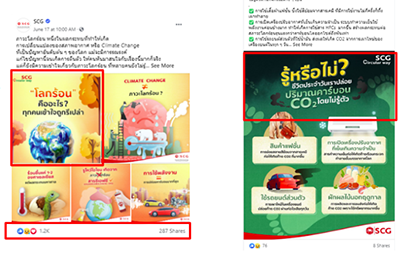 They provide knowledge content such as global warming content (left) and carbon dioxide danger (right).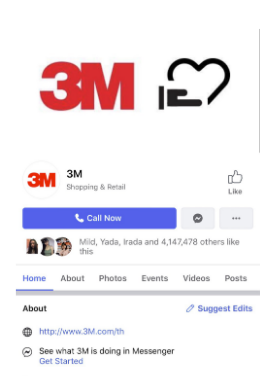 They are posting mainly about their company activities, service introductions, and knowledge education contents.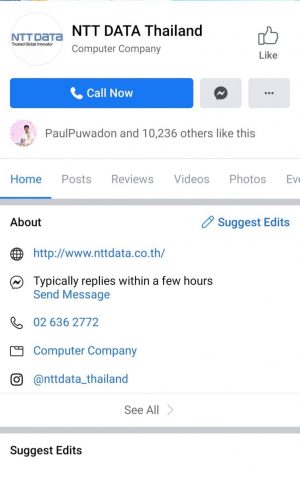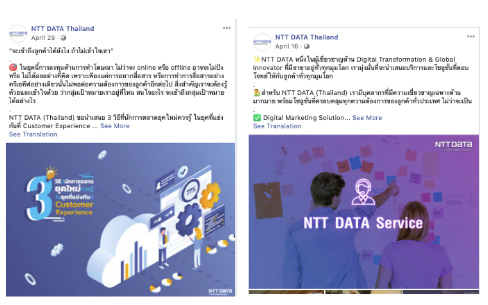 NTT DATA is an example of our actual case study.
Due to the lack of brand awareness, it was difficult for them to approach new graduates and people who are looking for a job, and in the business market as well, they could not expand to actual sales due to the lack of recognition of their services.
Achievement: By regularly uploading content each month, they now get a lot of followers to their Facebook page and now receive inquiries about recruitment and service inquiries once a week.
Summary
We introduced the importance of B2B companies in the Thai market for utilizing Facebook.
B2B companies need to make good use of social media to create search demand and generate more inquiries.
If you are a B2B company that has no previous experience of digital marketing, please feel free to contact us.