With about 70 million population in Thailand, there are currently 51 million users using Facebook in 2021. Many companies in both B2C and B2B raise awareness of their products and services, disseminate information to users and generate leads. In this article, let me introduce the most effective Facebook management method for approaching Thai people.
What is effective Facebook management?
Compared to Japan, where Facebook users are low, Facebook in Thailand is used not only by individuals but by many B2B and B2C companies. Thai people are always looking for interesting content, so if it is a B2B product or service, we can deliver content not specifically about the product details, but to provide useful content to grab people's interest and help get reach. For B2C products on the other hand, it is common to engage with users through promotions and campaigns. When operating Facebook for Thai targets, it is important to set up the persona of your potential target in order to promote your products and services. If your targeted fans of your company, the person who actually becomes a fan, and the people who got engaged to your post are all different, you might end up not getting the expected results as you initially set. You can achieve results by being aware of the consistency of whether you want to distribute information to the right target.
Also, Thai people have a tendency to "see" rather than "read". Rather than giving information by texts, delivering information by visual leads more impression and engagement in the Thailand market. Let's take a look at the key points below in order to make your Facebook operation effective.
Set the objective and KPI of your Facebook page
Post frequency and tone and manners consistency
Analysing posts performance
Operation continuity
Understand Facebook algorithm
1. Set the objective and KPI of your Facebook page
First of all, when deciding to operate Facebook, it is natural, but it is important to clarify the "objective" and "KPI which is specific numerical value to be targeted". If you start it simply because you can expect an effect in Thailand, you may not know what you are doing as you continue to operate it.
Example objective of Facebook operation:
Improving brand awareness, attracting customers, developing fans, increasing the number of inflows to the site, increasing the number of inquiries, increasing sales, hiring, etc.
Facebook-operated KPI example:
Number of page followers
Engagement rate (number of likes, number of shares, number of comments)
Number of link clicks
Reach / Impressions
2. Post frequency and tone and manners consistency
Consistency of "posting frequency" and "tone & manners" is important for Facebook operation. If the posting frequency is unstable, users may lose interest and it may be difficult to obtain the set KPI. In addition, by setting the tone and manners of the page according to the target, you can get more sympathy from the target user from the narrative tone and design atmosphere of the post, which will lead to the understanding and recognition of the brand. For example, if your target is a B2B company for the manufacturing industry, maybe create a post design in a serious manner or content that gives a strong impression, and if your target is a student, create a post with or without emoji, cute soft wording and design. Engage while approaching effectively. Previously, we had a B2C client targeting students that posted consistently with high use of emoji in the content on Facebook operations, but due to the strong request of clients, emoji were temporarily removed for some months. At first glance, it seems that there was not any obvious difference as just the emoji in the content was removed. However, the performance was completely different between the months when the post with emoji was delivered and the months when the post without emoji was delivered. So after we reported the differences to the client, they immediately requested us to change it back to its original tone and manner. In posting, if you set the tone and manners based on the purpose of Facebook operation and the brand image of the company, it is necessary to keep in mind not to fall out of it.
3. Analysing posts performance
In Facebook operation, PDCA is rotated while posting and measuring the effect. We will constantly verify whether posts that meet the set purpose can be planned and produced, and whether the posts have achieved the set KPI, and we will operate with more results. It is desirable to be able to measure the effect based on data of at least 6 months or more rather than measuring the effect in a short period of time. This is because I used to deliver the posted content in a similar manner with relatively good results for 5 months, but before the results from 6 months onwards were delivered to the same target setting. In some cases, the result was not so good. The more data there is, the more results can be analyzed, hypotheses such as which part is the bottleneck, and actions to produce more effective results can be taken.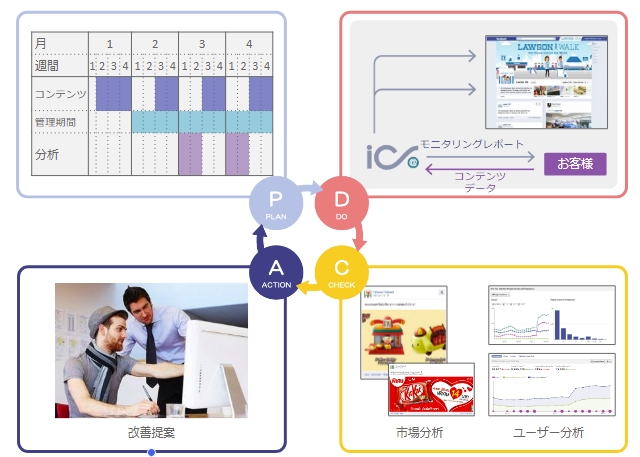 4. Operation continuity
Continuity is extremely important not only in Thailand, not only in Facebook, it can be applied to any medium that serves as a point of contact for customers to deliver their information to users. Social media, where a lot of information flows every day, demands the latest information and trends, so if the update of posts is delayed, the image of the company may deteriorate. It takes a certain amount of time to actively distribute, including reminders, to communicate with users who have become fans of the company, users who have responded to posts, and those users. Posts delivered by companies are accumulated and become their assets, and it is important to continue in order to gain the trust of the brand and the empathy of
5. Understand Facebook algorithm
Facebook's algorithm (the mechanism for determining the display order of posts) is updated daily. Therefore, it is necessary to have a solid understanding of how Facebook works and to keep track of the latest features and mechanisms in order for Facebook to operate successfully.
In January 2021, Facebook announced new details about the algorithm.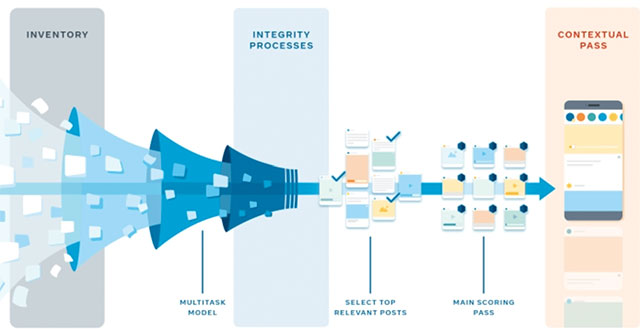 To briefly explain
First, Facebook gets all the posts available on your network (also known as "inventory") and rates them according to a predetermined ranking, such as post type, up-to-date, and so on.
Then, based on the user's past behavior, discard posts that are unlikely to involve the user. In addition, content that users do not want to see (in online advertisements, etc., click guidance of the method of intentionally listing an article title that is not related to the content of the page in order to attract the user's interest and click, incorrect information , Or content that the user says they don't like) is demoted.
Then run a "stronger network" on the rest of the posts and evaluate them in your own way. (Example: User A has a 20% chance of watching a video of a system solution, but has a 95% chance of responding to a photo of a family puppy, ranked in descending order of value)
And finally, we'll place a good cross-section of the media type and source to display on Facebook so that users can view a variety of interesting posts.
In other words, Facebook ranks the posts that users want to display with their own interests first. Facebook evaluates countless items, sometimes even the speed of the user's Internet environment. Facebook, which is updated daily, is an algorithm that displays posts at the top, but the four that are still the most important are the following.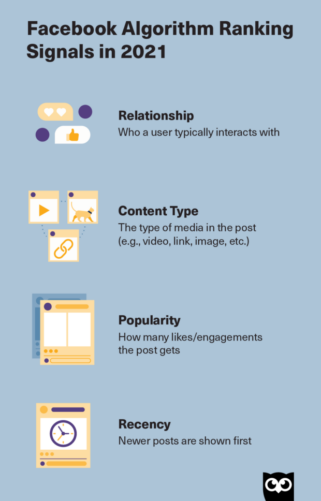 Relationship: Whether users respond frequently (send messages, follow, tag) posts to users, businesses, news pages, or not.
Content types: Content types include video content, image content, links, etc., but which type of media do users prefer most?
Popularity: How do users who see the post react (share, comment, reaction)?
New: Whether new posts are updated regularly, as new posts are ranked high.
In this way, Facebook puts the user first and continues to focus on giving the information that the user wants most.
Importance of Facebook ads
I explained the Facebook algorithm, but you need to understand the Facebook algorithm for both organic posts (natural reach without ads) and paid posts. Here, I will explain why paid posting using advertising expenses is effective. The purpose of Facebook operation of B2B / B2C companies is usually to raise awareness of their own brand / product and acquire prospective customers, but it is very difficult to reach the target without using advertisements. Because Facebook is now commonplace to be used as a business, the reason Facebook founder Mark Zuckerberg launched Facebook in 2014 is to online a network of family and friends. It was to connect with. That policy hasn't changed, and Facebook, whose mission is to strengthen connections between people, prioritizes displaying friends' posts on the timeline first and foremost. Therefore, promotional posts delivered from business pages have a lower priority than friends' posts, and it is said that about 5% are displayed on the timeline. A page with 10,000 followers can only be seen by about 500 of them. In addition, the average engagement rate for posts (likes, comments, shares, etc.) was 0.25% in 2020 data. If you have 10,000 followers, only about 25 will engage your post. Furthermore, when the number of followers exceeds 100,000, the number is even lower at 0.08%.This is an algorithm created by Facebook with the user experience first. So how can you display a business page post on the user's timeline?
The answer is advertising.
Summary
Facebook operation using Facebook, which has the highest usage rate in Thailand, is a marketing method that promotes products, services, businesses, etc. on Facebook, promotes brand recognition and revitalizes communication with users, and leads to inquiries. .. This time, we have introduced the following five points in order to use the effective operation method.
Set the objective and KPI of your Facebook page
Post frequency and tone and manners consistency
Analysing posts performance
Operation continuity
Understand Facebook algorithm
You also understand that Facebook ads are also important for getting your information to reach your target audience.
Facebook's algorithm (the mechanism for determining the ranking order of posts) is updated daily. Therefore, it is necessary to have a solid understanding of how Facebook works and to keep track of the latest features and mechanisms in order for Facebook to operate successfully. At our company, we will properly understand the products and services that you want to appeal, and we will lead to results while conducting planning, content planning / proposal, content production, execution, and effect measurement. If you want to start a Facebook operation but don't know what to start with, or if you are feeling the limits of your own operation, please feel free to contact us first!