Google Analytics
Operation Support Service
We provide Google Analytics support to many companies.
What is Google Analytics operation support service?
Icomm Avenu provides access analytics support with Google Analytics. We support not only how to use Google Analytics, but also the improvement of owned media and the operation of PDCA cycle for solving digital marketing issues that are beyond that.
In almost all industries, 90% of the companies own a website and that it is almost difficult to find a company that does not have a website nowadays.
So what is the purpose of having a website?
Just having a website does not solve anything, you must have a clear "purpose" for having a website.
You must always have a goal (=purpose) for your website
Do you have such problems?
---

I want to know the situation
I want to know how much traffic access to my webpage.
I want to know where people accessing the website are coming from
I want to know the user population who use the website
I want to know how effective it was in the advertisements

I have Google Analytics but that's it
Struggling with GA reports and don't know what are the next steps.

I want information to determine the cost
I want to implement effective measures, but I do not know how to allocate budgets for advertising expenses and campaign expenses

Want to increase conversions from websites
I want to increase the number of inquiries from the website
I want to increase the number of web visitors
I want to increase sales
I want to reduce the number of withdrawals before conversion
I want to increase sales through retargeting (remarketing

I want to know the improvement points of the website
Want to know which website is ineffective in bringing conversion.
Want to know how to improve my website and conversion.

Want to know the improvement points of my advertisement
Want to wisely spend my marketing budget in advertisement based on GA report
— We will solve everything! —
---
Access analysis of Google Analytics is measured not by feeling but by numerical value.
Icomm Avenu's Google Analytics Support Service uses the know-how gained from consulting services and website production to support how to use Google Analytics for web marketing measures!
What is Google Analytics?
The most important service at the core of GMP platform is Google Analytics (GA). Google Analytics is a free web analytics tool offered by Google to help you analyze your website traffic. Currently it acts as a platform inside the Google Marketing Platform. It can help you track your digital marketing effectiveness. By conducting access analysis, it becomes possible to understand the user behaviour on the website.Just having a website is a waste if you don't have any idea who is accessing.
Instead of delivering advertisements to the same target group every time, it is definitely effective to retarget the target by showing different advertisements based on their behaviour. Grasping the current situation, discovering issues such as what is the bottleneck, and by doing so, make provisional provisions such as whether advertising should be strengthened, content needs to be reviewed, or enhance user experience of a site. With the use of a paid version of Google 360 if you have a large website or want extra analytic support features.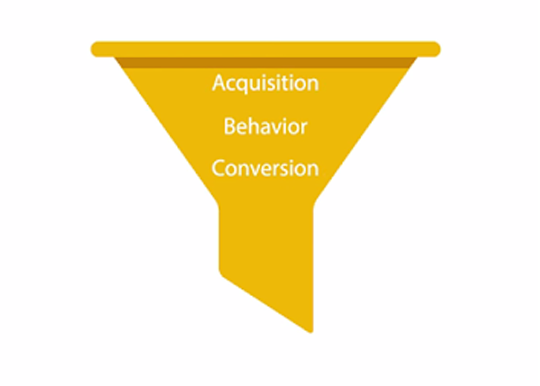 Why Digital Analytics?
In marketing, we have a concept of a purchase funnel. There are different stages within the funnel that describe customer interactions.
1. Acquisition: Building awareness and acquiring user interest
2. Behavior: Users engage with your business
3. Conversion: When user becomes a customer and transacts with your business
In the offline world, this process can be hard to measure. But in the online world, we can measure many different aspects of the funnel using digital analytics.
Examples of items that can be measured by Google Analytics
User
Acquisition
Behaviour
Conversion

– Gender

– Age

– Location

etc.

– Where did they access from

– Which advertisement did they click to access

etc.

– How many times the page was viewed

– What page do the user access and exit the page

– How many user came to page and leave straight away

etc.

– How many people registered newsletter, purchased product, send contact us form

– How many people downloaded pdf file or watched the video

– How many people leave the page before purchasing

etc.
–Google Analytics overall support service–
---

Implementation
We will help you implement Google Analytics.

Support
We are always available for you. Our strong and enthusiastic team will NEVER fail you. Any questions related to Google Analytics for operation methodology will be fully supported by us.

Analysis
We will help to analyse and identify hidden insights in your Google Analytics reports.

Marketing Operation
Enhancement or improvement action will be taken based on your data from analytics reports.
Utilization of Google Analytics
Utilizing Google Analytics means taking action of analysis results and improving return on investment in marketing.
Actually, there are many staff who can use Google Analytics tools, but are you satisfied with JUST data reporting and are not utilizing Google Analytics properly to increase conversion rate.
If you have not heard of Google Analytics or you have it but do not know how to use it, don't worry. We are here to help you!
Icomm Avenu, (Google's No.1 reseller company in Asia Pacific), could support you based on our 20 years' marketing experience. Icomm Avenu able provide a wholistic concepts throughout all the steps in order to make your business successful by PDCA strategies. We are certified Google Ads partner, certified Google Analytics partner and certified Google distributors for Google Analytics 360 too.
We provide support of implementing Google Analytics, how to use Google Analytics, and planning and consulting for marketing using data analysis.
Please feel free to contact us for more information!
Icomm Avenu Thailand and Malaysia
–Google Analytics Support Team–
---
Let's check out our team member who is able to assist you.
Below are our experienced members who have obtained Google certification "Google Analytics Individual Qualification"